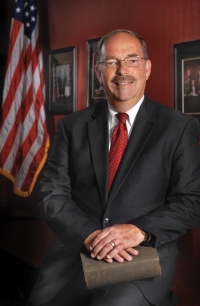 Lakewood City Schools Superintendent Jeffrey W. Patterson has been selected as the 2015 Ohio Superintendent of the Year by the Buckeye Association of School Administrators for his leadership of the 5,500-student district.
"I am honored and humbled. This award speaks volumes about the accomplishments of our students, the quality of our staff and the commitment from the Lakewood community and our Board of Education," Patterson said.
Patterson became Superintendent in 2011 after serving five years as Lakewood's Assistant Superintendent. Prior to coming to Lakewood, he served as Superintendent of the Orrville City School District for six years.
Patterson has provided effective leadership as the district passed both a bond and an operating levy in the same year with overwhelming support; increased student achievement, particularly for the district's most at-risk students; landed in the top 2% of public school districts for yearly academic growth; and oversaw negotiations with the district's professional unions that have helped put the district on strong financial footing.
Patterson has continued the Lakewood Schools' legacy of engaging the community in major decisions that affect the district. He has earned a reputation of being forthright and transparent through his many community meetings. He is a member of the Lakewood community and is involved in a number of community organizations including the economic development group LakewoodAlive, the Lakewood Council of PTAs and Lakewood Rangers Education Foundation.
Read Full Story
Volume 10, Issue 24, Posted 12:53 PM, 11.11.2014