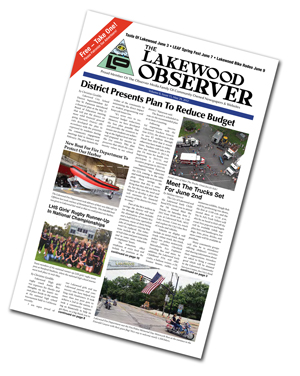 http://media.lakewoodobserver.com/issue_pdfs/Observer_Vol_08_Issue_11.pdf
All
The Lakewood Observer Restaurant/Food/Bat and Patio Guide 2012!
Here we are enjoying perfect day after perfect day in a city we all love, and is changing faster than we can blink. Movie Theater gone! School about to close!, Drug Mart moving 5 blocks, ruining two of the nicest streets in Lakewood forever. How can you not love progress.
We got real lucky with CVS but even with our "luck" do we still like it more, than the stone walls and historic lighting that was planned for Arthur? Really? Are we excited about the news that Grace and Cohassett will get similar treatments by the less resident friendly Drug Mart? And as we celebrated the ribbon cutting of a bike rack, how could we not look forward to Value World, while wondering, when are the city and the schools going to put back the basketball courts they took down?
Yeah, as the city tries to understand the itself through "Community Vision Workshops" some of us are wondering if they might be trying to clean up after the burst of exciting new strip mall developments they have already brought to this sleepy little town, that for years was known for their cool, and their "best in the area." Well now that we have Value World coming, and traded that nasty theater for a McDonald's we are sure to win that again for an other year of brand building!
Hooray for summer! Hooray for Bike Lakewood! Hooray for Sunday Mass (rides), and hooray for the residents of this marvelous community. Together, we can make miracles happen, or not.
Party on, be safe.
_________________
Jim O'Bryan
Lakewood Resident
"The very act of observing disturbs the system."
Werner Heisenberg
"If anything I've said seems useful to you, I'm glad.
If not, don't worry. Just forget about it."
His Holiness The Dalai Lama