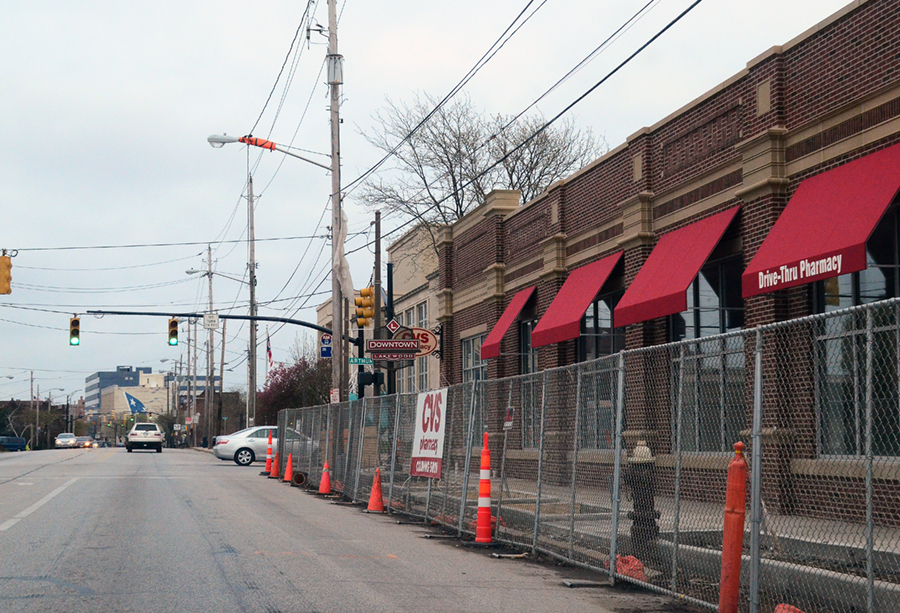 Another shot with some of the clutter removed. When the fence and cones are removed it will be easier
to see that is for sure.
I have had many conversation with with Sean who was not only on the committee in charge of the signs,
but also headed up the construction for Zaremba of the CVS. Sean is a great family guy,
loves Lakewood, and lives so close to this development he is also a happy neighbor to the project.
The best point he has made with me for the signs is that we are only paying for a portion
of them. What portion I forget. And if we needed or wanted waf-finding signage, it is much
better to get a portion it reminds me of the comic strip "Blondie" for those old enough to
remember Blondie and Dagwood. "It was half off, so if you deduct what we saved from
what we spent, it's free."
SEAN NEVER SAID THAT
, Sean is pretty sharp. Blondie
would have. Sean's point that there was money out there for "way finding" and that we
would be foolish to think about doing it without trying to do it in time to get the grant
money is spot on. Still, do we need way-finding, why and for who?
This is where it gets tricky. Are we building Lakewood for those that do not live here to come here and drink? Or
are we building Lakewood from the foundation it has had for decades, a bedroom community that is a great
place to raise your kids and call home? When a city decides to spend its money on helping people find downtown
instead of keeping the parks clean and open for residents, I would say the writing is on the wall for where we
are headed and what the mindset is in Lakewood City Hall.
At the meeting at the Clifton Club last week, even though it was for a housing project both Mayor Summers and
Nate Kelly from the county, spoke of millions that could be allocated to Lakewood for commercial development.
While this sounds great, especially to the we want lower taxes crowd at the CC, it sends off warning bells in my
head. Commercial property is the second most expensive property for a community to maintain. It is only second
to empty commercial property which is so expensive to maintain, it should make everyone thinking of commercial
development to pause and think long term, can we afford it? The analogy I make is I collect cars, but even if
someone gave me a Ferrari, I could not afford to maintain it. Hence, I love Ferraris, love riding in Ferraris, and
am very content, with that knowing I never need to worry about owning one.
The State of the City was all about belt tightening, all about cutting services, all about us getting meaner and
meaner. Well no one mentioned meaner, but you get the drift. So how can this city justify $400,000 for nice
sign post on Clifton, and wayfinding in Downtown? These are luxuries, not necessities. When I think that for
the cost of the new "Downtown Lakewood" sign we might have been able to keep the park 100 yards away open
as it has been for decades until 11 pm for all residents, and Downtown, it really gives me pause to consider how
else is our very limited budget being wasted, or directed away from residents into supporting a business district
that while we are told is booming seems unable to pay for its own luxuries?
The good people on the sign committee did a good job with what they were told. Come up with a sign very
similar to the one we already have designed, preferably in the burgundy we wanted. And they did that. But I
wonder if someone had said, let's design a sign for downtown, and it will cost us as much as 12 hours a day
use for two of our parks to be named later. Would they still have done the job at all? Or would they have stopped
and asked why do we have to close parks, why do we need to spend money on letting someone yet to be decided
to know when they are officially downtown?
Making a city look better...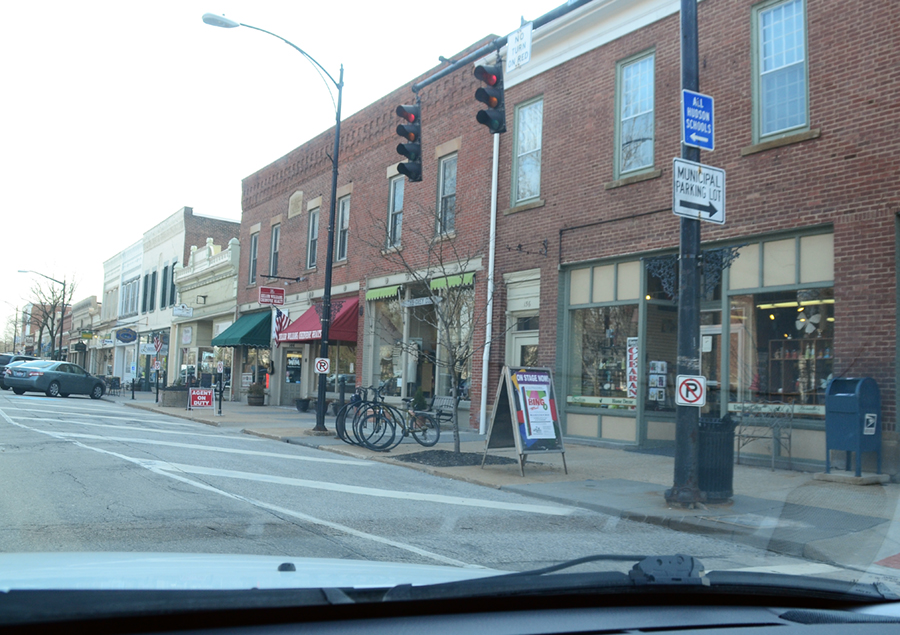 Hudson, Ohio
In all of my travels the single best way for a city to look cleaner, and more together is through the removal of
overhead wires. This photo through a dirty car window of Hudson illustrates what I am saying. I still has the
crappy A-Frame signs, and clutter Lakewood has, but without the cat's cradle of wires over the street it looks
cleaner and neater. Sean has designed this into CVS Pharmecy's new building. Should the city of Lakewood ever
get serious about cleaning up Downtown, it should seriously look at underground wiring be mandatory for all new
buildings. Michael Dever had asked for this from AT&T when they brought in UVerse, and fellow council members
struck it down as being to costly for AT&T to do.
At some point this city has got to start acting like the prettiest girl at the dance(3 years in a row best suburb),
and start demanding our dates(businesses moving in) come dressed for the special occasion.
FWIW
.