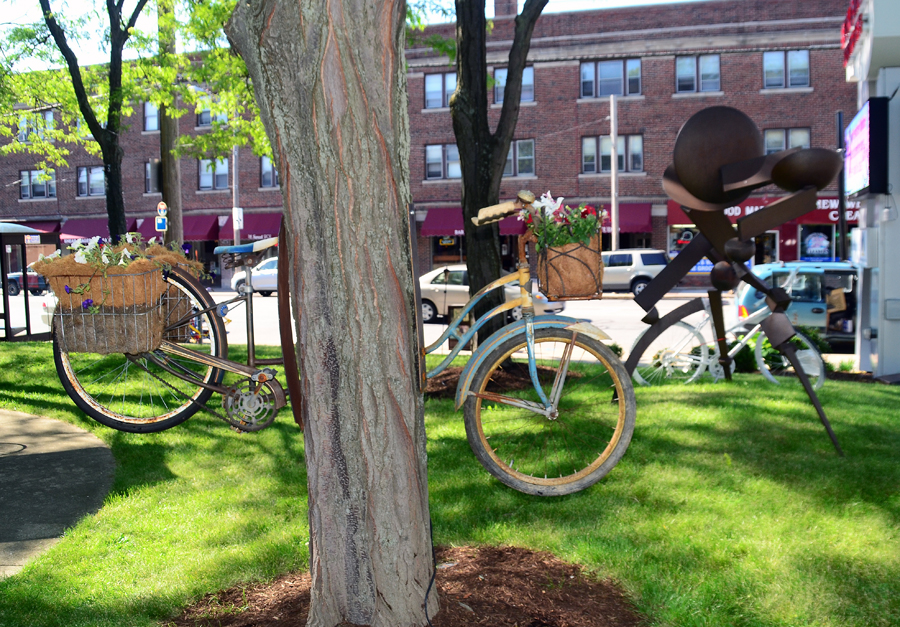 Artwork from Jerry Schmidt who has Waterloo 7 Art Gallery/Shop in Collinwood and
has recently collaborated to open Branches on Lake Shore Blvd. brought some of his
artwork over to the Beck Center for this Saturday's Bike For Beck, this Saturday May 19, 2012.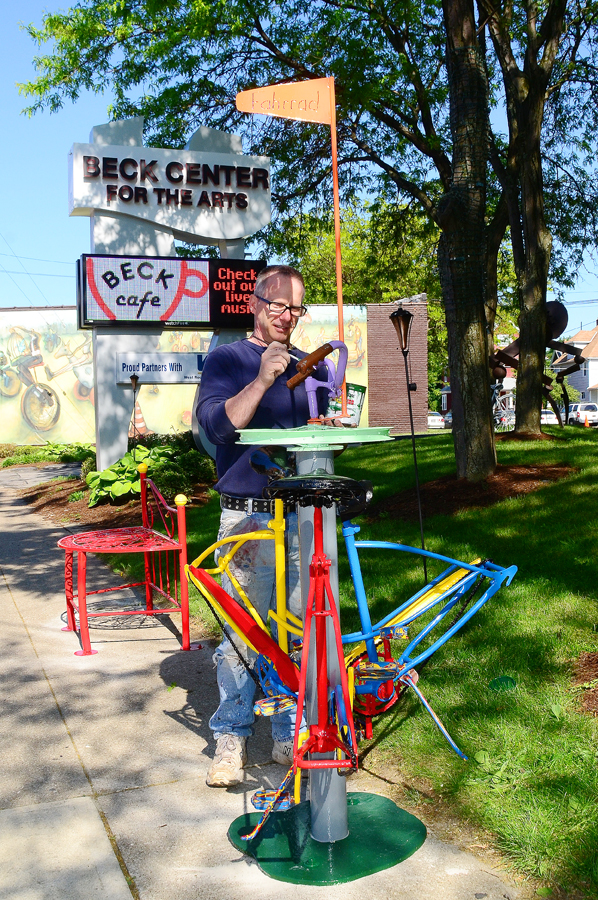 Jerry Schmidt adds some final touches to one of his pieces after installation.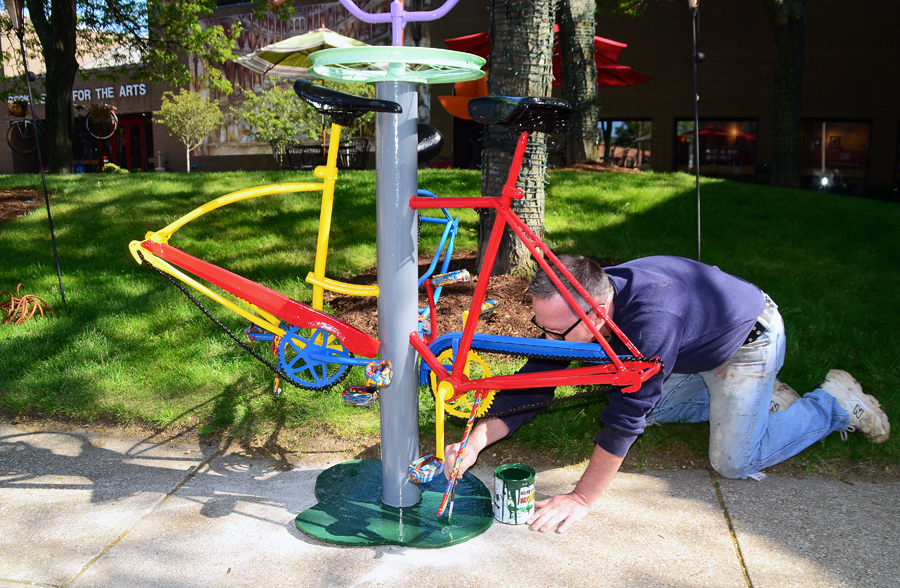 Jerry adds some final touches after installation.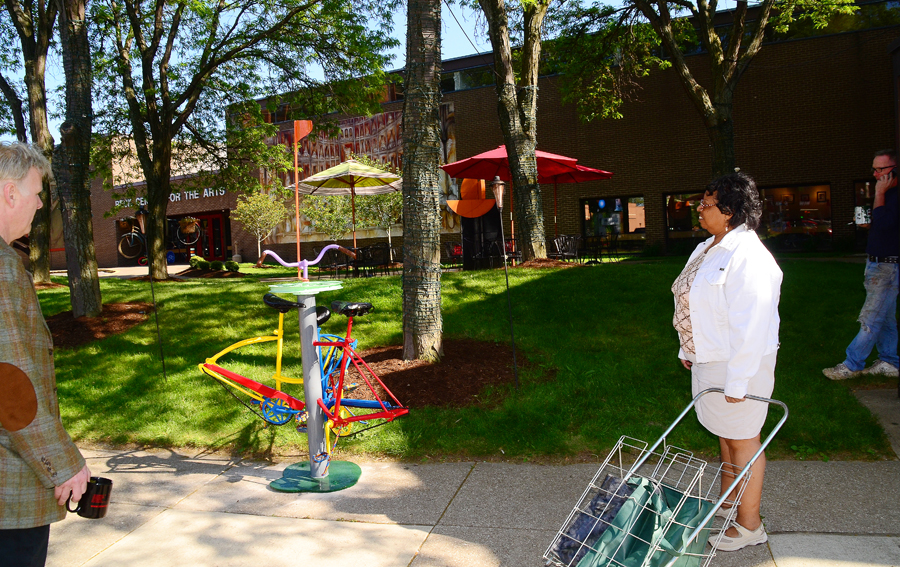 Internationally known art dealer and owner of the Beck Café Paul Sykes, looks at the
finished piece, as a local resident stops by and exclaims, "Well I just love the colors!" While
Jerry talks to his next patron on the phone.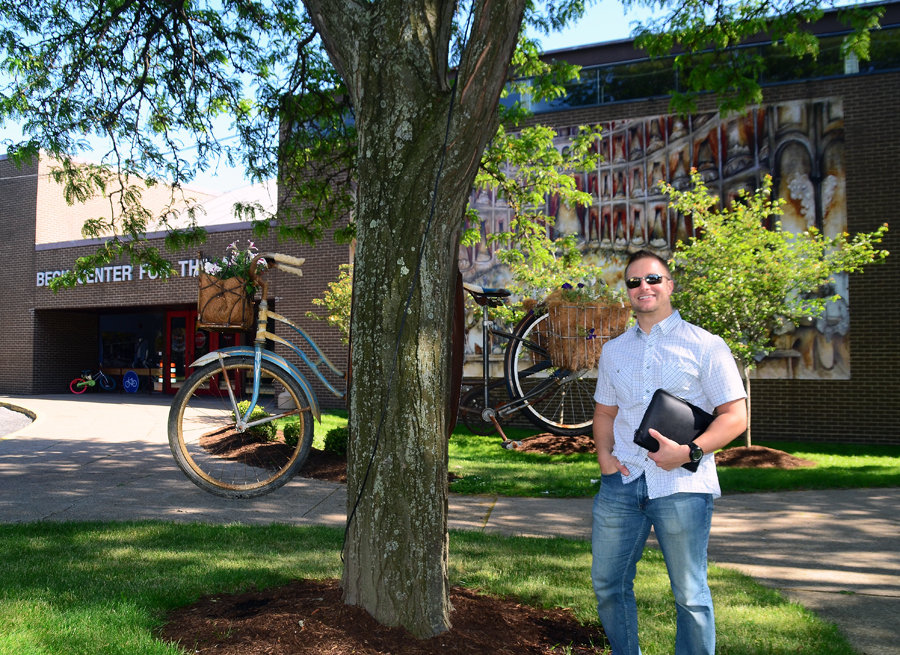 Geof Pelaia, of the pelaia media group stands next to Jerry's art. The idea for Bike for Beck came from the Beck Center's
CEO Cindy Einhouse based on an event her husband participates in every year out in Chicago. The group presenting Bike
for Beck is Connect to Beck; a group of arts and culture lovers that supports the Beck Center by enticing new audiences
with social and insider events. Geof Pelaia and Amanda Harland have been co-chairing the event on behalf of the group
since Cindy's idea was brought forward in October of 2011.
FROM THE BECK -
Bike for Beck is Saturday, May 19
Three tours, bike parade and "Bike for Beck Fest" part of the first annual event.
Lakewood, OH—Beck Center for the Arts and Connect to Beck (C2B) are hosting the first annual Bike for Beck Saturday, May 19, 2012. The bike tours begin at 9:00 a.m. at the Beck Center, located at 17801 Detroit Avenue in Lakewood, and continues through the Metroparks. Bike for Beck is followed by an afternoon of arts and entertainment on the Beck Center campus. Proceeds from this fundraising event benefit Beck Center's arts education programs.
Cyclists may choose from 12-mile, 25-mile, and 60-mile route lengths. Novice cyclists may choose to participate in "Music in Motion," a 1/2-mile bike parade which begins at 11:45 a.m. and proceeds through the surrounding neighborhood. Parade participants are encouraged to decorate their bikes artistically and judges will be on-hand to award prizes to the most creative entries.
Bike for Beck Fest, free and open to the public, will run 11:30 a.m. to 6:00 p.m. on the Beck Center grounds.
Activities will include:
· Safety and maintenance demonstrations by Bike Lakewood
· Exhibition of antique bicycles dating from 1900 through 1960 courtesy of SPIN Bike Shop
· The Red Stage will host live music by Fireside, The Supposed So, and Revolution Brass Band
· Popular food truck Fired Up Taco Truck will be onsite throughout the afternoon
· Lakewood Mayor Michael P. Summers will recognize internationally acclaimed artist Natasha Turovsky in a brief ceremony at 11:30 a.m. Turovsky recently created a canvas mural "Marathon," measuring 51'x17', that was installed at Beck Center last weekend. "Marathon" is her third Beck Center mural, making this public art the largest canvas mural art exhibit in the country.
Cyclists and parade participants may register online at bikeforbeck.org until noon on Friday, May 18. In-person, cash only registration begins at 9:00 a.m. on Saturday, May 19. Cost is $40 per cyclist and includes an event t-shirt to the first 200 cyclists. The parade participation fee is $5 per person for riders ages 12 and older. Children under the age of 12 must be accompanied by an adult, with a maximum of three children per each paid adult.
For more information about Bike for Beck, including a complete list of activities and route information, visit
http://bikeforbeck.org
.
.
_________________
Jim O'Bryan
Lakewood Resident
"The very act of observing disturbs the system."
Werner Heisenberg
"If anything I've said seems useful to you, I'm glad.
If not, don't worry. Just forget about it."
His Holiness The Dalai Lama