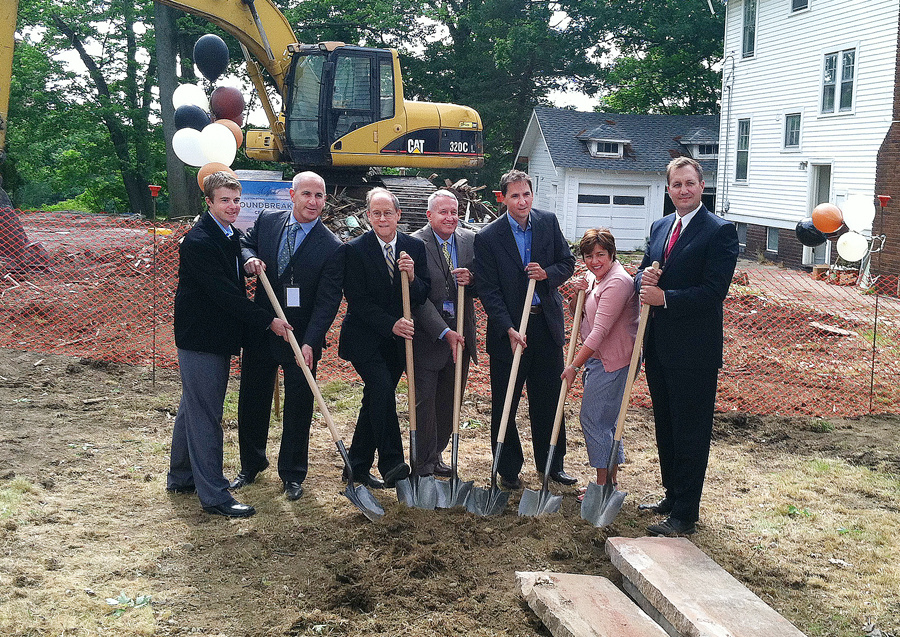 Ground breaking at Clifton Pointe. From left to right a representative from Dimit Architects (Architects) Andrew Brickman, president Adobe Living (developer), Dale Mille County Council Person, Mayor Michael P. Summers, Mayor of Lakewood, David Anderson, Councilman Ward 1, Patty Ryan Direcot of the Lakewood Chamber of Commerce, and Dru Silley, Director of Building and Development.
It was nice to Clifton Pointe moving along. I know that there have been a couple small
moments since I last went to Clifton Point party, but Andrew Brickman is a class act and
everything has been taken care of properly and in a way to keep the city, residents,
neighbors, and even the people still living in the home happy.
Adobe Living and Andrew Brickman are the quality kind of developers the city needs to
work with, to get this city to where it can. Adobe has a really good grasp of the
neighborhoods they develop, and where we are all headed in the future. So it was good to
hear that all but 6 units have been sold, with another 3 closing in the next week or so. I
have to be honest, it was very tempting package, and Adobe Living Home, with a ten year
100% tax abatement. One couple was there from Solon that had bought a unit, I know of
4 purchased units from people that lived in Lakewood and are anxious to get into their
new homes.
I hope this is the beginning of a wonderful relationship with Adobe, and other quality
developers instead of working with developers with very little experience or skills.
Dru Siley, director of Building and Development, mentioned that he hoped that this would
kick off waterfront development in Lakewood. I agree it is time we look at developing the
river and lakefront, especially if we can turn 1 or 2 riverfront/lakefront properties in 15 or
more. If we can turn 2 $160,000 properties as Councilman Anderson, stated into $12
million dollars in properties, even without them paying any taxes for ten years, let the
waterfront development start NOW!
.
.
_________________
Jim O'Bryan
Lakewood Resident
"The very act of observing disturbs the system."
Werner Heisenberg
"If anything I've said seems useful to you, I'm glad.
If not, don't worry. Just forget about it."
His Holiness The Dalai Lama