The Pulse of the City: Truffles, Trumpets, and Theaters Weldon Carpenter's Story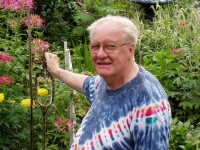 One of the many special things about living in Lakewood is having the opportunity to meet many incredibly fascinating people. In my many years of living here, I've met race car drivers, sea captains, great musicians, and of course, all of you- at least through the magic of the press!
My incredible person for this week, is Mr. Weldon Carpenter. Weldon and his wife, Veronica, live on Northland Avenue. Anyone who has ever attended their parties knows what a magnificiently delicious spread of food that these folks provide for their guests.
Weldon is one of those people who is able to turn kitchen utensils into magical wands of energy. He began cooking for others while he was still a young man, as his mother had vision problems and it was therefore his responsibility to often prepare the evening meal.
At a party hosted by the great actress Mae West in New York, Weldon told me that he was introduced to Judy Garland, and that he soon started cooking for her at her home in Hyannis Port, Massachusetts. Many of his meals were also enjoyed by some of the biggest names in the political and entertainment spheres, according to this eclectic wizard of the wok.
Autographed pictures grace the walls of Weldon and Veronica's comfortable home from the many stars who have enjoyed his scrumptious repasts over the years. People like Mae West, Mel Torme, Matha Raye, Jane Powell, Ginger Rogers, Bob Hope,and Bob Cummings have all either eaten Weldon's cooking, or had their picture taken with this talented oven-master.
In addition to his work with Judy Garland, Weldon reports that he would often work private and press parties for the stars. He relates personal stories about Sally Rand, Rudy Vallee, Gloria Swanson, and Ethyl Merman, like you and I might discuss our friends and neighbors down the street.
In the Greater Cleveland area, Weldon stated that he has served as chef at the Old Allen Restaurant, the new Supper Club at the old Geauga Lake ballroom, and at the Rusty Scupper, among other places around town.
Additionally, he helped groups like the Free Clinic with their catered events, as well.
But there's more to this oft proclaimed "chef to the stars" than surf and turf.
During Weldon's Ohio State years, he was a Drum Major for the marching band, as well as being a music major, with trumpet being a primary instrument.
Presently, Weldon serves as the historian for the All Ohio State Fair Band. In 2002, Weldon was inducted into the Ohio State Fair Hall of Fame, for his service with that organization. He has been involved with that group for 56 years, and his picture, with the governor while receiving this award, also hangs on his wall at home.
And...there's even more to this dedicated caring individual! His love of old theaters, and the people who worked with them, became his passion of a lifetime, for the fortunate benefit of all who live in Cleveland.
One day, Weldon was on "The Mike Douglas Show" with Jane Powell in Philadelphia, showing some of his theatrical and star-related memorabilia. Soon thereafter, he hooked up with a gentleman named Ray Shepardson who was interested in theater restoration in Cleveland.
Weldon stated that he moved from Columbus to Cleveland, at Ray Shepardson's encouragement, in order to help save the theaters in Cleveland's Downtown district. Weldon talks about living for several years in the Palace, State, and Allen theaters, while trying to get people interested in their refurbishment. Weldon served as the Historian for that organization. He gave tours, polished brass, dusted fixtures, and even kept the ghosts at bay.
Ghosts?
Yes, theater legends abound with ghostly apparitions wafting about the old theaters. Weldon told me that the ghosts never bothered him personally. Of more concrete concern were the people who tried to break into the old theaters in the dead of night, while he was there.
Of course, the Playhouse Square theaters were ultimately saved, to the delightful appreciation of all Clevelanders who value culture and the arts.
Weldon still has quite a bit of his theatrical memorabilia. From time to time, he trots it out, to the amazed delight of his many friends. He has occasionally put it on display, as he did once at the Ashland Library, the town where he spent his childhood years.
These days, Weldon is enjoying a well-earned retirement spent with his wife, Veronica, and son Chris. He still dreams of theatrical revivals, and he reminded me that Lakewood still has a number of theaters, although only a few still book live acts. As well, unfortunately, there are several presently being unused for entertainment purposes.
These days, Weldon bemoans some of the shows that come to town and charge big bucks, yet have no "headliner" or " Big Star" present to justify their expense. He also voiced concerns about the high prices charged these days for just about any show. He would like to see more families being able to see live shows, as in the old days.
Whether present-day theatrical realities will ever permit a return to the kind of presentations that Weldon and I have seen or experienced in the past, it was still a wonderful experience to share tidbits of the theaters with this Lakewood legend.
Read More on Pulse of the City
Volume 2, Issue 19, Posted 2:02 PM, 07.20.06