Vintage Baseball in Lakewood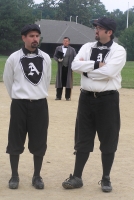 Enjoy a fabulous summer afternoon in Lakewood Park by watching vintage base ball! Vintage Base Ball is base ball (yes, it was two words originally) played by the rules and customs of an earlier period. Ballists don period uniforms and recreate the game 'as it was meant to be played.' The Lakewood Historical Society is excited to host a vintage base ball double-header between the Akron Blackstockings and the Forest City Base Ball Club on Sunday July 13, 2008 at 1 p.m. at the Oldest Stone House field in Lakewood Park.

The mid-nineteenth century game was considerably different than today's game. Ballists played with bare hands until the 1880s and balls caught on one bounce were outs until the mid-1860s. Balls are considered fair by where the ball first touches the ground. That is, a ball hit in front of home plate that then spins into foul territory is still a fair ball. There are numerous other differences, but modern spectators will still recognize our national pastime.

Both teams are lots of fun to watch. They explain the rules of the game throughout, engage the spectators and even encourage kids to try out the old fashioned bat and ball. Don't miss seeing "America's Pastime" as it was meant to be played!

This event is free and open to the public. For more information on the events, contact www.lakewoodhistory.org or 216 221-7343. For more information on vintage base ball, check out www.vbba.org.
A Brief History of the Game

In 1845, Alexander Joy Cartwright, Doc Adams and others were early members of a group of young professionals who made up the Knickerbocker Base Ball Club. The Knickerbockers began the process of formalizing the rules (e.g. bases set at 30 paces or 90 feet apart, establishing foul territory, etc.) in the late 1840s and early 1850s. Establishing clear foul territory was a major improvement as it allows spectator to get up close enough to the action to become interested in the game.

By the mid to late 1850s, more than a dozen teams with names like the Eagles, Empires, Excelsiors, Putnams, Unions and Atlantics had formed in New York City and Brooklyn to play the Knickerbocker or New York game of base ball. In 1858, the National Association of Base-Ball Players was formed. By 1860, the number of teams playing skyrocketed as teams formed in other cities like Philadelphia and Washington. Gradually other variants of the game, most notably the Massachusetts game, died out in favor of the New York game.

The Knickerbockers modeled their club after the gentlemen's clubs that had been organized in cricket. The Knickerbockers seemingly had more team rules and regulations about gentlemanly behavior than the game itself. But the popularity of the game, and the prospect of charging admission (first done in 1858), lured some working-class clubs into the game like the powerful Brooklyn Atlantics, whose main interest was to win.

After a brief lull during the Civil War, interest in the game of base ball was rekindled in the post-war years. As the popularity (and prospects for getting paying spectators) grew, still more professionalism crept into the game. Eventually, Harry Wright's Cincinnati Red Stockings field the first, openly all-professional team in 1869 and the rest is history.

Information gleaned from the Vintage Base Ball Association web page at www.vbba.org
Read More on Historical
Volume 4, Issue 14, Posted 3:02 PM, 06.30.2008