Make Mine (A) Manhattan by Jeff Endress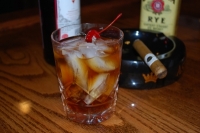 MAKE MINE (A) MANHATTAN In much the same way that our menus have seasonal variations, turning from dogs and burgers in the summer to stews and soups in the winter, so too do the libations which we tend to enjoy. While a cold beer goes equally well with football or baseball, somehow a frozen margarita by the fireplace just doesn't seem to fit as well as it does when consumed pool-side. The cold winter months seem to require beverages with more substance and less paper parasols as the heady red wines, bourbons, and scotches take the place of fruity chardonnays, gins and tonic, and daiquiris. Part of that change is the result, no doubt, of pairing the beverage with the change in cuisine. As we turn to heartier fare, wine and spirit pairings must also turn heartier, as Zinfandels make way for Merlots, and more complex white Burgundies replace fruity California Chardonnays. So it is too with cocktails, where the warmth of a brandy is more appreciated after shoveling snow then a pina colada. Within the category of heady drinks are two timeless classics: the Martini and the Manhattan. Now, to a purist the popularity of martini menus and a vast array of drinks which purport to be martinis is somewhat offensive. A martini, in its truest sense, contains only three elements: gin and dry vermouth and an olive garnish -- simplicity in a tall-stemmed glass, stirred and not shaken. In recent times, all manner of "Martinis" have become the vogue, from apple to chocolate. The only common denominator seems to be a requirement that all elements be spirituous.
Similarly, the Manhattan is whiskey, sweet vermouth, a dash of angostura bitters, garnished with a maraschino cherry. But, with the exception of varying the types of whiskey used, that classic cocktail has not experienced the recipe expansion experienced by the Martini. Not being a gin drinker, it is the amber liquid that appeals to my taste. And so over the course of a cold winter, my drink of choice, and the focus of this discussion, is the classic Manhattan. There is some divergence of opinion as to the pedigree of this classic cocktail, although all agree that its birthplace is on its island namesake. Most place its invention in the mid 1800's, and I would prefer to believe that rather then being invented by a Broadway bartender named Black, that it was first contrived at a reception that Winston Churchill's mother hosted for (losing) presidential candidate Samuel Tilden. Somehow Winston, cigar clutched firmly in mouth, seems more fitting as a part of the estimable Manhattan's pedigree.
With the advent of the winter of '07-'08, my compatriots which make up my circle of friends that we refer to as the TTCC (Third Thursday Card Consortium) embarked upon an exhaustive study of the libation. The classic recipe remains the same, Whiskey and sweet vermouth, in a 4:1 ratio, a dash of bitters and a cherry. But, there is a good deal of opinion as to the type of whiskey to be used. Tradition requires rye, but prohibition brought in a turn towards Canadian, while there is a current popularity of sour mash bourbons, both Tennessean and Kentuckian. Obviously all needed to be considered, but given the Manhattan's reputation as a "man's cocktail", one of simplicity and strength, it was clearly an effort that would require an extended period of time, as well as focus and dedication to the task.
Given the importance of the task we had undertaken, we were committed and dedicated every Friday at our private retreat to sample variations in the classic over a period of 3 months. Over those 13 weeks of intense study, our Stock Vermouth was paired with all manner of Whiskeys, always in a less sweet ratio of 5:1. There was the Kentucky branch: Beam (all three colors), Wild Turkey and Maker's Mark. There was the Tennessee Branch, Jack Daniels (both green and black) and George Dickel . There was the Canadian branch, Canadian Club, and Seagrams. And there was the classic, historical, Ryes made by Old Overholt and Jim Beams. Just to be fair, we even included a session with Early Times. Manhattan creativity allows for, and encourages a slight measure of creativity on behalf of the mixologist. It is this small element that can make the difference between a good cocktail and a truly great one. Some have chosen a more exotic type of bitters. Some may add a drop or two of Gran Marnier. With a slight nod to this bartender's creativity, I added a small dash of maraschino cherry juice to the cocktail shaker. When all was said and done, we discovered that sometimes it is difficult to improve upon tradition.
Sometimes, despite 150 intervening years the original is still the best. And so it was here. After this exhaustive study, it was the decision that the perfect Manhattan was the one Winston's mother served in 1870 with Rye, although in fairness, whether it was Old Overholt or Beams remained an open question. But since both are produced by the Beam family, we determined that we need not resolve that issue. But because it is always best to recheck one's research, we will be reviewing those result during the winter of "08-"09.
Read More on Chef Geoff
Volume 5, Issue 3, Posted 9:15 PM, 02.10.2009