PLEASE READ NOTES: A Missing Child's Family Speaks Out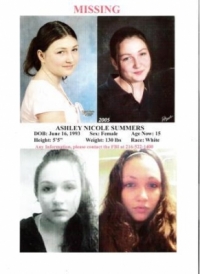 When a child runs away or is taken away, the impact spreads beyond the immediate family. People outside the family think of the mother and father first. These strangers have a word of sympathy for the parents and for a brief fleeting moment thoughts such as, "I wonder how I would feel." They may even go home and hug their child or children for no apparent reason. The forgotten ones are the missing child's siblings, grandparents, aunt, uncles and even cousins. The child's disappearance has a wide-reaching effect, not only on the family, but extending to the community as well.
I am the step-grandmother of a missing child. I am going to share with you our family's story and just some of the impact her disappearance has had on our family. I can only share bits and pieces because it would be impossible to share everything, not only would it take a lot more space, but as yet, the impact isn't completely known. As a typical response to grief, not everyone in the family has shared or shown the effects of this life event with others.
My granddaughter is considered an "Endangered Missing Child" and her name is Ashley Nicole Summers. I'd like to know how old she is here… She disappeared July 9, 2007 from the near west side of Cleveland, Ohio. Ashley actually ran away from her Great Uncle's house on Holmden Avenue. She was staying there after a huge fight with her mother. None of us know why she packed all her belongings and left that day. My story will briefly touch on events from that day to the present, almost two years later.
Ashley's mom, Jen, although still angry with Ashley, spent her whole summer in 2007 driving the streets of Cleveland looking for her daughter. Sometimes she followed Ashley's boyfriend to see if she was with him. Jen and other family members hung posters up and down the streets of the neighborhood they lived in near West 98th and Madison. The posters were ripped down as fast as they went up. One of the posters made it into a local drug store, which led to our first lead. Someone reported to the police that Ashley was staying in the same building where they lived and they didn't realize she was a run away. When the police arrived, Ashley was gone.
In one of my searches, I talked to some people on Lawn Avenue near West 65th Street. They knew where she was staying but were afraid to speak up. Although they didn't say they knew where she was, I could tell by their facial expressions and hushed whispers. I gave them a flyer with our phone number on it and asked them to have Ashley call her PaPa, my husband, as he was very worried about her. We never heard from her. I got a lecture from my husband that day.
"You shouldn't go back to that area, you could have been shot." He told me that area is known for drugs and prostitution and he didn't want to lose me like he lost Ashley.
Jen's reaction appears to be indifferent, but indifference is a form of denial, which is a normal reaction to grief: the grief and sadness that any mother would feel in her position. Ashley's extended family, consisting of her aunts, uncle, and grandparents, have reacted with anger, guilt and sadness.
A lot of questions and conversations have taken place among the extended family. Conversations such as: "Why didn't she call me?" "I would have helped her." "Where do you think she is?" On and on the questions go.
Personally, my husband John, Ashley's grandpa, or papa, as he is affectionately called, is full of grief. I am careful as to how much I discuss my search for her when I talk with him. I have begun searching online for her, trying to get as many people as possible, all over the country, to see her picture. Unfortunately, Ashley didn't receive any media coverage in the beginning because she was a runaway.
I posted on the Lakewood Observer's Observation Deck, a discussion page, but wasn't able to keep it going. In November 2008 Ashley's case was converted from a status of Endangered Runaway to Endangered Missing at the National Center for Missing & Exploited Children and the FBI got involved in the case.
Every once in a while, I'll search the Internet with Ashley's name to see if any new items pop up on a search engine. On February 13th, 2009 I was doing just that and found a blog at http://jamesrenner.wordpress.com/ with Ashley's picture. The blog belongs to James Renner, a staff writer for the alternative weekly newspaper Cleveland Scene. He is also the author of The Serial Killer's Apprentice, a book about 13 of Northeast Ohio's most intriguing unsolved crimes and Amy: My Search for Her Killer. The latter book follows his investigation into the unsolved murder of Amy Mihaljevic, a high profile missing child, eventually found dead, in 1989. I met with Mr. Renner and helped him with some questions he had about Ashley.
Shortly thereafter, out of the blue, WJW Fox 8 interviewed Jen and her mom as well as the FBI. It aired March 9, 2009. Not to be outdone by the competition, Channel 19 WOIO showed up at her doorstep and did another interview with Jen and the FBI the next day. In both interviews the FBI spokesman stated teenage prostitution was one of the theories they were looking into. Both newscasts mentioned two other girls that disappeared from the same west-side neighborhood Ashley lived in: Amanda Berry, missing since April 21, 2003; and Georgina DeJesus, missing since April 2, 2004. Jen doesn't believe Ashley had been kidnapped and forced into teenage prostitution. She's convinced someone harmed her or is hiding her out-of-state.
Since then, I've posted updates on the Lakewood Observer's discussion pages. The Observer's forum post has gained momentum: David Lay, one of the community members, submitted an article to the Lakewood Observer about Ashley. He also broadcast the link on Twitter and the article has had over 10,000 views. This recent activity gives us hope for now.
I wonder how long we will keep pushing to have her story told. How many years go by before we give up and move on? Ashley has a new baby sister and another sibling on the way. Will she ever get to see them? Will they ever get to know her or even understand she once was, and still is, a part of our family? These are questions I ask myself as I continue to pray, hope and believe that one day, good or bad, we'll know what happened to her.
If you happen to read this Ashley: we love you! Please come home!
by Linda Summers © March 2009
Additional Information
National Runaway Switchboard 1-800-RUNAWAY
Operated 24 hours a day, 365 days a year. Started 1971. More than 100,000 phone calls annually.
Statistics:
·1.6 to 2.8 million runaway and homeless youth live on the streets of America. (OJJDP, 2002, Research Triangle Institute, 1995)
·Youth aged 12-17 are at higher risk for homelessness than adults. (American Journal of Public Health, 1994, 1998)
·47% of runaway/homeless youth indicated that conflict between them and their parent or guardian was a major problem. (Westat, 1997)
Source: http://www.1800runaway.org/news_events/FactSheet.html
National Center for Missing & Exploited Children
Since 1983, our nation has observed May 25th as National Missing Children's Day. Statistics from the U.S. Department of Justice help shed light on the problem:
Missing children overview
·In one year, an estimated 797,500 children were reported missing.1
·According to the U.S. Department of Justice, more than 2,000 children are reported missing every day, and thankfully the vast majority of them are recovered quickly.
Nonfamily abductions
·An estimated 58,200 children were taken in one year by someone outside the family2 – typically for a short time, in connection with another crime.
·An estimated 115 children experienced a stereotypical kidnapping, the rarest type of abduction potentially posing great risk of serious harm.3
Family abductions
·An estimated 203,900 children were victims of family abduction, where the child was taken by a noncustodial parent.4
·24 percent of these abductions lasted one week to less than one month.5
If your child is ever missing, call your local police department right away. Police are required by law to immediately take a missing child report and then promptly enter that report into the FBI's National Crime Information Center. After you have contacted local authorities, contact NCMEC at 1.800.THE.LOST(1.800.843.5678) or online at www.missingkids.com.
Footnotes 1. Source: Andrea J. Sedlak, David Finkelhor, Heather Hammer, and Dana J. Schultz. "National Estimates of Missing Children: An Overview" in National Incidence Studies of Missing, Abducted, Runaway, and Thrownaway Children. Washington, DC: Office of Juvenile Justice and Delinquency Prevention, Office of Justice Programs, U.S. Department of Justice, October 2002, page 5.
2. Source: David Finkelhor, Heather Hammer, and Andrea J. Sedlak. "Nonfamily Abducted Children: National Estimates and Characteristics" in National Incidence Studies of Missing, Abducted, Runaway, and Thrownaway Children. Washington, DC: Office of Juvenile Justice and Delinquency Prevention, Office of Justice Programs, U.S. Department of Justice, October 2002, page 6.
3. Ibid.
4. Source: Heather Hammer, David Finkelhor, and Andrea J. Sedlak. "Children Abducted by Family Members: National Estimates and Characteristics" in National Incidence Studies of Missing, Abducted, Runaway, and Thrownaway Children. Washington, DC: Office of Juvenile Justice and Delinquency Prevention, Office of Justice Programs, U.S. Department of Justice, October 2002, page 4.
5. Ibid., page 7.
Source: http://www.take25.org/page.asp?page=54

FBI's Innocence Lost Initiative Marks its 5th Anniversary
In June 2003, the Federal Bureau of Investigation in conjunction with the National Center for Missing & Exploited Children and the U.S. Department of Justice, Child Exploitation and Obscenity Section launched the Innocence Lost National Initiative (ILNI). Their combined efforts were aimed at addressing the growing problem of domestic child sex slavery in the form of child prostitution in the United States.
·Over 400 children have been rescued.
·The CyberTipline has received 5,127 tips of child exploitation through prostitution.
·The number of CyberTipline reports of known missing children involved in prostitution is 944.
·During that same time period, NCMEC has intaked 41,978 endangered runaway cases.
·Case data shows that many of these children can be at great risk of being lured or forced into child prostitution.
Source: http://www.missingkids.com/missingkids/servlet/CampaignServlet?LanguageCountry=en_US&PageId=3721
Read More on Other
Volume 5, Issue 7, Posted 6:05 AM, 04.08.2009