Wanted: Emergency Response Team Volunteers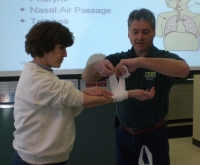 Would you know how to help your family and neighbors in the event of a disaster or emergency? The Westshore Regional Community Emergency Response Team (WSC) is offering free classes on topics such as disaster preparedness, basic injury assessment and medical treatment, search and rescue procedures, fire suppression, disaster psychology, and much more. The 20-hour adult FEMA course is conducted by local safety professionals. Westshore residents who are US citizens, successfully complete training and pass a background check are eligible for team membership.
Do your part to keep our region safe and prepared. To register for the free classes or for more information contact WSC Coordinator Tricia Granfors at (440) 716-4135 or granforst@north-olmsted.com. Space is limited.
Training begins Saturday, February 19, 2011. The five consecutive Saturday morning classes will be held at St. John Medical Center, 29000 Center Ridge Road and the City of Westlake Service Center, 741 Bassett Road, from at 8:00 a.m. to 12:30 p.m.
Read More on Lakewood Health Care
Volume 7, Issue 2, Posted 12:29 AM, 01.26.2011