Lakewood Christian Service Center Becomes Lakewood Community Services Center To Better Reflect Its Mission And Constituents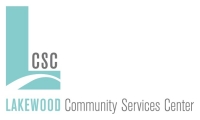 One of the area's longest-serving human services organizations is changing its name – effective immediately – as the former Lakewood Christian Service Center is becoming Lakewood Community Services Center (LCSC). According to the organization's executive director Trish Rooney, the shift for the 29-year-old Lakewood-based non-profit speaks to its mission to improve not only the lives of all of its consumers, but also the stability of the community at large.
"We have a highly diversified client base, and many of the citizens who utilize us as a community resource don't practice the Christian faith," said Rooney. "We have known for some time that there was a degree of discomfort with the word Christian being so predominant in our name, and we want to convey a broader sense of being inclusionary while maintaining the tenets of our faith-based legacy. It is difficult enough to come for assistance without adding this sense of exclusion for families who need our help."
Founded in 1982 by 12 Lakewood churches and located at 14230 Madison Ave., the organization got it's financial support, it's staff, trustees and volunteers almost exclusively from local congregations. Over the years that support mix has changed dramatically, as has the organization's push to engage a wider population for the day-to-day operation of the center. Church funding has decreased, while more broad-based financial support comes through federal, state and community sources, as well as foundation and individual donations.
"We have truly become a community organization," says Rooney. "This is not to say in any way that we have changed our mission. What it does say is that there is a broader base of community support than we have ever enjoyed in the past and a more diverse group of people concerned enough with the quality of life of all our consumers to step up and become involved."
Rooney said easy access to the services provided by LCSC is paramount, as continued changes in Lakewood mean an ever-increasing need for assistance for many residents. In 2010 the Center distributed enough food for families to prepare 250,000 meals, provided rent assistance to prevent 315 families from becoming homeless, and kept utilities turned on for 245 households. These numbers represented a 32% increase in the number of households served when compared to 2009. And the first two months of 2011 indicate that the demand will continue to increase. The name change, she said, can be a component in helping the organization have the most impact possible.
Board trustee Reverend Mark Thomas, Senior Pastor of Lakewood Congregational Church, sees the name change as a positive reflection of the City of Lakewood. "The name change is to fulfill the vision that everyone in the Lakewood community who is in need will know the LCSC doors are open to them. Unfortunately, we have been made aware that not everyone knows this to be true, believing the services and assistance offered by LCSC were unavailable to non-Christians."
Reverend Thomas is not alone in his support of the change. During the discernment period, Center staff met with leaders of four of the Lakewood churches who have historically been and continue to be its strongest financial supporters. All four senior pastors back the name change with one remarking, "Perhaps it is more Christian to not claim your work as exclusively Christian."
LCSC maintains a close relationship with the City of Lakewood, and the organization has become a central touch-point for services ranging from food distribution to emergency shelter and supportive housing assistance to referrals for other specific human services needs.
"This organization has enormous short and long-term impact on people's lives, and it plays an important role in both support and empowerment," said Chas D. Withers, Lakewood resident and President of the LCSC Board of Directors. "We believe this change keeps LCSC in best alignment with the population we serve while staying true to the historical mission."
Newly Engaged Board of Directors
Although the most significant, LCSC's name change is only one of the initiatives being undertaken at the Center. In December 2010, the organization began the process of reforming its board of directors to attract new members who would be fully aligned with the mission and prepared to reach out to colleagues in the community who could support the organization going forward. That engagement includes time, talent, leadership and influence, strategic thinking and financial support. The goal was to confirm seven members in the first quarter of 2011, with a total of 13 by the end of the year. The seven confirmed members of the current board are officers Chas D. Withers, President; J.B. Silvers, Treasurer; Heather Holdsworth, Secretary, and members Marilyn Culley, Laura McBride, Dru Siley and Reverend Mark Thomas. "I am so grateful to these individuals for their willingness to fully support LCSC, its mission and its staff," says Rooney. "We not only need to continue doing what we already do in the most effective way possible, but begin to look at other opportunities for service offerings that will help to stabilize our community and its residents. To do this we need people who are willing to put in time and who are not afraid to think outside the box."
New Logo
The organization's name change provided the opportunity to create a new logo as well. Graphic designer Mary Ann Aue created a fresh and modern look that reflects LCSC's enduring ties to the City of Lakewood and a brand that would stand the test of time. The graphic element conveys the message that the goal of the organization is to help every individual who comes for assistance to define a path to self sufficiency and that each staff member, board member and volunteer is committed to helping every client work toward self-determination.
About LCSC Programs
Although there are many agencies serving the west side, LCSC fills an unduplicated need in the following key areas:
1) LCSC is the Hunger Network of Greater Cleveland's designated hunger center serving Lakewood, Rocky River and Westlake.
2) LCSC is the point of access for Lakewood residents who qualify for the City of Lakewood's Emergency Shelter Grant funds for one-time rent and/or utility assistance to prevent homelessness.
3) LCSC is the center for the HUD-funded Supportive Housing Program, which assists homeless individuals referred by shelters, residential treatment programs and social service agencies throughout the area to secure and maintain stable housing anywhere in western Cuyahoga County.
4) LCSC is the point of access for the City of Lakewood's American Recovery and Reinvestment Act stimulus dollars that provide homeless prevention help to qualified Lakewood residents.
5) LCSC refers clients to organizations and agencies for specific additional services, such as health care, mental health and chemical dependency counseling, early childhood and youth services, educational assistance and employment services.
The Center offers on-site access to additional client services administered by community partner agencies. Every Wednesday evening, an outreach worker from Cleveland Tenants Organization is available to assist with landlord/renter's rights issues; a volunteer attorney from the Cleveland Homeless Legal Assistance Program is on site one Wednesday each month to provide free legal assistance for civil matters; an outreach worker from West Side Ecumenical Ministries (WSEM) is at LCSC each week to assist clients with Food Stamp applications and during the months of October through March, an outreach worker from the Council for Economic Opportunities for Greater Cleveland (CEOGC) is on site to enroll clients in its emergency home energy assistance program. A 5,000 square foot community garden in the City of Lakewood's Madison Park also provides client gardeners the opportunity to grow fresh vegetables in their own 4' x 20' plots and a Cleveland Foodbank-supported free farmers' market offers clients access to fresh produce five months each year.
If you have an interest in exploring ways you can get involved at Lakewood Community Services Center, contact Trish Rooney at 216. 226.6466 or trish@lcsclakewood.org.
Laura McBride, LCSC Trustee
I am the Executive Director of Lakewood Christian Service Center.
Read More on Non-Profit
Volume 7, Issue 6, Posted 2:20 PM, 03.08.2011