Leaders On And Off The Ice: St. Ed's Hockey Senior Night Highlights Success In The Arena Of Life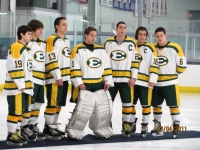 Even at the high school level, sports are often central to a student's life. Too often, students are measured solely by those successes, ignoring the things that they will carry with them for the rest of their lives. On Friday, February 4th, at Serpentini Arena here in Lakewood, the St. Edward High School Ice Hockey program took pause to acknowledge the accomplishments of their seniors on multiple levels: those on the ice and elsewhere. The event took place just before the Eagles were to face Lake Catholic High School in a regular season match-up.
Among other things, here is a sampling of what these seniors have done and where they are headed in the future:

Alex D'Angelo - Alex is a member of the National Honor Society, Captain of the State Championship football team and Captain of the hockey team. He is going to The Ohio State University after graduation unless football pulls him elsewhere. His favorite hockey memory was the District win over St. Ignatius in six overtimes to go to the State Semi-Finals his sophomore year.

Riley Egan - Riley is a four-year honor student and Captain of the hockey team. His aspiration is to play junior hockey after graduation. Riley's favorite hockey memory was going to Toronto with his teammates to face the competition up north.

Justin Hoyt - Justin is a four-year honor student and Captain of the hockey team. He is waiting to hear from the U.S. Naval Academy, which is his 1st choice for college. He has already been accepted to the Air Force ROTC program at Kent State University as well. His favorite hockey memory was winning the JV State
Championship game in overtime against University School as a sophomore.

Clay Jarrell - Clay is an assistant Captain of the hockey team. He is planning to play juniors next year after graduation. His favorite hockey memory is scoring the first goal in the home opener of the regular season his senior year. If you've frequented Winterhurst, you might recognize Clay as one of the friendly faces in the pro shop.

Jonathan Lacoste - Jonathan is President of the Senior Class and a member of the National Honor Society. Jonathan has been accepted to Boston College and plans to study International Business and Political Science. He is also still waiting to hear from Cornell, Harvard, Dartmouth, and Brown. His favorite hockey memory is beating St. Ignatius 2-1 at home his senior year.

Danny O'Sullivan - Dan is a National Merit Scholar and member of the National Honor Society. He plans to study engineering at either The Ohio State University, the University of Dayton, or the Rochester Institute of Technology after graduation. His favorite hockey memory is an ongoing one… Danny has played hockey with his line-mates Riley and Clay since they were five years old!

Matthew Sydor - Matthew is a four-year Honor student at St. Edward. He has been accepted at John Carroll University, Ohio Wesleyan University, The College of Wooster, and Wittenberg University. He is still waiting to hear from Denison University, Pitt and the University of Michigan. Of those he has been accepted to, he will visit before making his final decision. Matt plans to major in Molecular Biology.

And the game? That ended in a somewhat disappointing 2-2 tie. Despite the less than desirable outcome, Head Coach Troy Gray and a couple of the aforementioned seniors still took time after the game to give a few young fans a tour of the St. Ed's locker room. At home games, guests 12 and under are eligible to win a tour after the game.

On this night, the tour ended with seniors Clay and Justin giving the kids autographed St. Edward hockey pucks.

Indeed, it is not about one game, one season or one sport. It is about much more than that.

As for on the ice, the playoffs have begun and St. Ed's is still going strong in this weekend's semi-finals. To follow St. Ed's (or your other favorite hockey team) this weekend as they make a run for the state title in Columbus, visit http://brackets.digitalschoolnetwork.net/icehockey/boys/tournament11/.
Read More on Sports
Volume 7, Issue 5, Posted 2:20 PM, 03.08.2011