Faith Lutheran Church (ELCA) Calls Mark Rollenhagen As Mission Pastor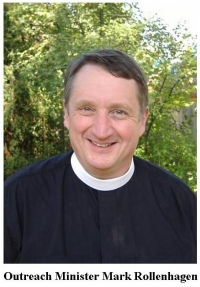 Acting on a recommendation from its Faith Mission Board, Faith Lutheran Church (ELCA), Lakewood, Ohio, has extended a call to Seminarian Mark Rollenhagen to direct the Faith Mission Project. He began work on July 1 as a lay outreach minister and will be ordained and installed as Mission Pastor on Saturday, September 10, 2011.
A congregational meeting of Faith Lutheran Church, Lakewood, Ohio, voted unanimously on June 26 to call Seminarian Mark Rollenhagen as Mission Pastor with the task of leading and driving the Faith Mission Project.
The Mission Project, launched in 2008, aims to reconnect Faith with its surrounding neighborhood and reenergize the congregation as a vibrant outpost of Christ's mission to the Lakewood community.
Mr. Rollenhagen is completing the final class necessary to receive his Master of Divinity degree from Trinity Lutheran Seminary in Columbus, Ohio, this summer. He will be ordained and installed at Faith on Saturday, September 10, at 10:30 a.m. He started at Faith in an unordained capacity on July 1, beginning outreach and mission efforts in the community. Until October of 2008, Mark was a newspaper reporter and editor. He worked for the Cleveland Plain Dealer for nearly 18 years, the final two years as chief of its Columbus (Ohio) bureau. Mark had been studying part time at Trinity since 2003 and left the Plain Dealer to study full-time and to complete chaplaincy and internship requirements required for ordination in the Evangelical Lutheran Church in America.
He and his wife, Alison, have lived in Cleveland Heights for most of the last 20 years. Alison works as a coordinator in the Cleveland Clinic's leadership academy. They have two grown children. They have been longtime members of Bethlehem Lutheran Church in Cleveland Heights, and Mark did his yearlong pastoral internship at Hope Lutheran Church in Cleveland Heights. Mark began to sense a call to ordained ministry while serving as a lay leader at Bethlehem. He served as president of the congregation for six or seven out of ten years, seeing up-close the challenges of small Lutheran churches in inner-ring suburbs. He also coordinated the involvement of Bethlehem and four other Heights congregations – two of them Lutheran – in the Interfaith Hospitality Network, which provides temporary shelter for homeless families.
It was through those activities that Mark began to see God's presence in the ministry of the congregations and their people. He has a passion for finding ways to proclaim and articulate the Gospel in a manner that engages people who have left or just never connected to church and that renews or refreshes the faith of people long-involved in the church, helping all to enter into and maintain a relationship with God through Jesus Christ.
Kent Cicerchi
Director of Music/Organist Faith Lutheran Church 16511 Hilliard Rd (at Woodward Ave) Lakewood, Ohio 44107
Read More on Religion
Volume 7, Issue 16, Posted 1:17 PM, 08.09.2011