Splish Splash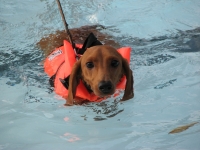 Splish, Splash, join the Lakewood Pool Plunge Bash! The end of summer marks the seasonal closing of Foster Pool, but not until our four-legged friends have the opportunity for their own pool party.
This annual event remains the biggest fundraiser for the Lakewood Dog Park, in addition to being loads of fun for dogs and their humans alike. The event allows dogs to run, jump and swim around the pool, while helping to support one of our city's greatest assets. The $5.00 donation for your dog (or $8.00 for two dogs), helps to maintain the dog park throughout the remainder of the year, providing hand sanitizer, waste bags, etc. The Friends of the Lakewood Dog Park, Inc. is a non-profit organization that relies on donations, and for a small fee, the swimming event provides hours of fun and exercise for our furry friends.
The Pool Plunge will take place on Tuesday, September 6 from 5:30pm to 8:00pm at Foster Pool in Lakewood Park. What a perfect way to end the long Labor Day weekend with a splash! Bring a towel, and we'll provide the pool, lifeguards, raffles, waste bags and hours of excitement. For more information and to print and sign a waiver from the City for you and your furry friends to partcipate in the event, please visit us at LakewoodDogPark.org. We look forward to seeing you and your dog on September 6.
Sarah Luikart
While I have lived in Lakewood for the last six years, I recently moved to Fairview Park. I am still very much tied to this city, predominantly through my positions as Secretary and Director of Public Relations for the Lakewood Dog Park. Most of my submitted articles will be regarding the park, or upcoming fundraising events for animal welfare organizations.
Read More on Features
Volume 7, Issue 17, Posted 8:32 AM, 08.24.2011