Save At Heirloom Home And Support the Arts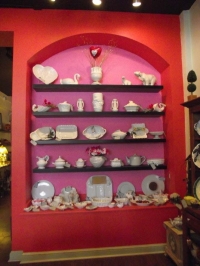 Heirloom Home, located on Lakewood's west end, is a unique resale shop with a philanthropic purpose. All proceeds benefit the student scholarship fund at the Beck Center for the Arts. Owner Brenda Ellner's love of the arts inspired her to open the establishment last year, just blocks from the Beck Center. Since then, store sales have helped many area children, who may not otherwise have the financial means, to enroll in Beck's arts education classes.
Customers will enjoy browsing the store filled with interesting antiques, decorative collectibles, vintage jewelry, and watches. All items are donated and many found their way from Ellner's own home in Shaker Heights when she downsized her collection of family memorabilia.
Just in time for Sweetest Day, shoppers can save 20% on their purchases at Heirloom Home now through October 29. Ellner hopes this discount offer will prompt customers to stop by, browse and buy a gift for that special someone – all while providing students with the opportunity to experience the arts and develop their artistic talents.
Heirloom Home is located at 18119 Detroit Avenue in Lakewood. Store hours are 12 to 5 p.m. Wednesday through Saturday. Donations are accepted and volunteers are needed. Contact Brenda at heirloomhome@gmail.com or call 216-406-7530.
Located at 17801 Detroit Avenue in Lakewood, the Beck Center for the Arts is a not-for-profit 501(c)3 organization that offers professional theater productions, arts education programming in dance, music, theater, visual arts, early childhood, and creative arts therapies for special needs students, and gallery exhibits featuring regional artists.
Read More on Arts
Volume 7, Issue 20, Posted 9:51 AM, 10.05.2011