Lakewood Speedskaters Living On The Edge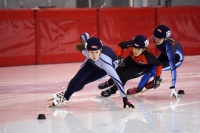 The Lakewood Speed Skating Club has been rich in history for almost 80 years. Lakewood speed skaters started skating outdoors in 1932 at the City Ice and Fuel Co. plant, which once stood at Warren and Fischer Roads, where Serpentini Ice Arena is today. Although the skaters practice indoors and year long, speed skaters haven't slowed down one bit!
Lakewood has had Olympic, World, National Short Track Champions and a both local and regional champion throughout it's 80 years of existence. Currently, the Lakewood Club has competitor Erin Bartlett training with the National Olympic Team in Salt Lake City, Lauren Zigelmeyer training at the US Olympic Education Center in Marquette, Michigan, Casey Mullarkey training in California and Maggie Dever who just returned from Marquette, Michigan; all whom will be competing in Champaign, Illinois for the American Cup 3. Lakewood is hopeful to have a member of its club compete at the next Winter Olympics in Sochi Russia in 2014.
Lakewood Speed skating Club is the longest standing club in the state of Ohio. Skaters come from all over the country to compete with and observe the high caliber of Lakewood skaters throughout the season. Speed skating has been described as "Nascar on Ice" by many skaters, including Olympian, Apolo Anton Ohno, whom many of the Lakewood skaters have personally met.
Lakewood also has some of the best coaching available in the country. Coaches Katie and Denny Marquard have helped coach elite skaters for Olympic, World and World Cup teams including Scott Koons (1998 Olympic Team), Ron Biondo (2002 Olympic Team), Kristen Biondo, Adam Reidy, Mary Griglak (2002 Olympic Team), Nick Frank and Erin Barlett. Anyone interested in being a part of the Lakewood Speed Skating Club's 80 year history is welcome to try it out. Contact Denny Marquard at 440-899-9577 for a free lesson and details.
Stacy Dever
Mother of 5 that has lived in Lakewood for past 18 years. Working with refugee population. Strong believer in social justice issues- loves diversity and living in Lakewood community. Want to share some of the unique opportunities that Lakewood has to offer.
Read More on Sports
Volume 7, Issue 23, Posted 4:43 PM, 11.15.2011