An Online Christmas Worship Experience?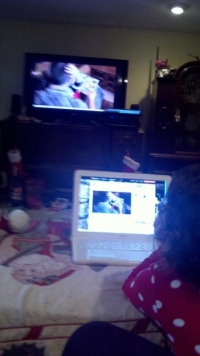 When Christmas falls on Sunday, a Church has many decisions to make. Are we going to have a worship service on Christmas Day? Should we do a big Christmas Eve Service instead? We have to do something, right? After all it is Jesus' birthday!
At CityEdge, we believe that God is always pursuing people. He is always speaking to them in subtle ways, inviting them into a bigger story, into his grander narrative of amazing life-changing love. So instead of calling everyone to get out of bed and short-change their traditional Christmas celebrations with family, we decided to meet people where they are. In this case, it happens to be their couches, via the internet, with something we called the Online Christmas Worship Experience. We had everyone invite their friends and family to join us at www.cityedge.org/online on Christmas Day for a very unique 20-minute Christmas experience.
Our team of artists, story-tellers, and musicians spent hours in preparation. Instead of a preacher speaking at people, we utilized a short cinematic film to tell the story of a father stressed out during the holidays who finds hope. We spent time in the studio recording Christmas classics like O Holy Night and Go, Tell It On the Mountain. One of the musicians even wrote and recorded a Christmas song that fit into the narrative wonderfully. Then we headed out to film videos to go along with the songs and narrative throughout Lakewood and greater Cleveland. We even filmed in a snowstorm while on top of a 5-story building! It was awesome.
The big day came. On Christmas Day we streamed 5,413 minutes of the Christmas Worship Experience into 354 homes throughout 22 States and 3 countries. Most viewers were from the Greater Cleveland area. By our conservative estimates, over 600 people experienced it on Christmas day. On Boxing Day, for all of you Canadians and Brits out there, we streamed an archived experience of another 3,170 minutes to 247 homes. That's over 8,500 minutes into 601 homes in two days!
To watch individual elements from the Christmas Worship Experience or its entirety in a playlist, you can visit www.youtube.com/cityedgemedia. During the experience we challenged everyone to take next steps in the journey with God and loving others. For example, we asked people to give $20 to charity:water. $20 gives someone clean drinking water for life who would have most likely died from water-related disease. Join us in this effort at www.cityedge.org/water.
As you start into 2012, know that God wants to meet you right where you are. He is pursuing you, inviting you into his life-changing love story. At CityEdge we would love to help you take your next steps with God. To connect with us visit www.cityedge.org.
Kevin Rush is Lead Planter and Minister of CityEdge Christian Church that gathers in Garfield Middle School in Lakewood, OH every Sunday at 10:30am.
Kevin Rush
Kevin Rush is Lead Planter and Minister of CityEdge Christian Church that gathers in Garfield Middle School in Lakewood, OH every Sunday at 10:30am. Kevin is madly in love with his beautiful bride, Sondra, and their three daughters; Selah, Aliyah, and Mylah. He enjoys music, art, technology, story-telling, and the city of Lakewood.
Read More on Religion
Volume 8, Issue 1, Posted 8:41 PM, 01.10.2012