VMS Rocks The Winchester!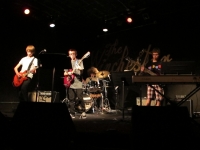 If you have nothing to do on Saturday, February 11, from 7 to 11 p.m., the Vance Music Studos, VMS, Showcase at the Winchester Music Hall is the place to be. You will be able to see 10 young bands for just $5. I have seen most of these Lakewood bands perform over the past two years and I can tell you that they really are great. For example, these bands are so good that one past band was even offered a record deal!
Here are just some of the bands to watch. First, there is my favorite band The Barking Spiders, which is made up of Garfield and Harding Middle School students. Look for Isaac Karel on keyboard and James Elder on his guitar and talk box. If you don't know what a talk box is come to the show and find out. Then there is Riot101, which is also made up of Garfield and Harding students. This band has already won several awards including a Louie of the Week award and an international cover song competition. At the last show their awesome drummer, Evan Suttell, played wearing an Anderson Varejao wig. Who knows what he will do this time?

If you watch closely, you will notice that several of the night's performers are in multiple bands. Riot101's bass player Nick Bilski is also an outstanding guitarist who can shred like Eddie Van Halen with the Beginning of the End. You also want to be sure to catch Dented Fender with Leah Choban as their talented lead singer and the Mercury Monkeys with Chris Vlachakis as their talented lead singer and lead guitarist. In the other bands you can also see members from Lakewood High School, St. Ed's, and Lutheran West. The bands listed above all have a Facebook fan page and you can find out more about them, Vance Music Studios, and the Winchester Music Hall there or on their own web page.
So if you want to listen to some great classic rock songs from AC/DC to Led Zeppelin and much more, come down to the Winchester February 11.
Abe Dalisky is a 6th grader at Harding Middle School.
Abe Dalisky
Abe Dalisky, Grade 6, Harding Middle School
Read More on Entertainment
Volume 8, Issue 3, Posted 9:45 PM, 02.07.2012