Lakewood's Pro Football Quarterback: Cheerleader Trades Pom Poms for Shoulder Pads"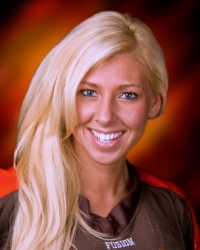 Like many women, Lakewood resident Amber Barrick spent her high school years as a cheerleader. She grew up loving football and enjoyed being part of the game. However, as an adult, she decided that she would rather call the plays than lead the cheers. Therefore, she traded in her pom poms for shoulder pads and became a quarterback.
This past winter Barrick joined the Cleveland Fusion, the local semi-pro women's football team. The Fusion, which plays traditional outdoor tackle football, starts its eleventh season this month. The Fusion is part of the Women's Football Alliance, which has over 60 teams across the country from California to Maine.
"I play because I love the game. Football became a part of who I am" says Barrick, who is listed as a safety, wide receiver and backup quarterback on the team roster. She is one of nearly 30 women on the squad, ranging from college-age to 48 years old. Unlike their male counterparts in the NFL, Fusion players have full-time jobs. Barrick works with the US Coast Guard, while other players work in positions ranging from law enforcement to Industry Analyst.
The women on the team have a wide range of athletic backgrounds. In addition to cheerleading, Amber played softball in high school. She also played last fall with the Cleveland Crush, the local entrant in the Lingerie Football League. Other Fusion players have experience in sports such as flag football, rugby and soccer.
Amber's new teammates are happy to have her with the Fusion. Christy Conlin, who is also a rookie this year, like's Barrick's attitude. "She keeps things fun, she is a hard worker and doesn't take things too seriously" says Conlin. Like Amber, Conlin is forecast to play wide receiver and defensive back.
Fusion Head Coach Erik Keister, who is in his first year at the position, has extensive experience coaching high school and college football. He views this position as similar to his previous jobs. "Football is football" he says. However, he recognizes that coaching women is a little different than males. "You have to take a little different approach," he says. "You can't yell at them constantly."
Fusion players have been working out all off-season, and began organized contact practices over a month ago. They practice three days per week during the season, and have games on Saturday night. Plus, there is lots of other work: "I make time every day to either study film, review the playbook, condition, practice or just promote the team," Barrick says. However, the players love what they do. Barrick cites the strong team unity. "The veterans and coach teach and the whole team in general is supportive of the each other."
Despite her football and work commitments, Barrick still finds time for her three dogs - two Golden Retrievers (Zoey-8, Bianca-5) and a teacup long-haired Chihuahua (Violet, 2). Dogs are one reason that Barrick decided to move to Lakewood. Amber has been active in our community, doing volunteer work for the All Dogs Heaven rescue group.
After a 5-3 record last year, the team is optimistic about the 2012 season. They plan to make the playoffs and make a deep run at the league championship. They will play teams from Chicago, Pittsburgh, Columbus, Detroit and Michigan.
The Fusion plays an eight game schedule, with games each Saturday from April 14 to June 9. The team plays its four home games at Byers Field in Parma, next to Parmatown Mall. Tickets are $10 for adults, $5 for kids. Children under six are admitted free. For more information on the Cleveland Fusion, visit www.clevelandfusion.com
NOTE: PHOTO CREDIT TO JULIE STAMBAUGH
Mike Deneen
Mike Deneen: Industry Analyst, Sports Fan & Pet Enthusiast
Read More on Sports
Volume 8, Issue 8, Posted 9:41 PM, 04.17.2012