Mirrors Playing Once Again!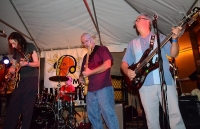 Did you miss Mirrors when they played at Studio-A-Rama in September? Never fear! Mirrors will be playing again January 25 at the Beachland Ballroom, so go and see them!
For those who don't know, Mirrors are an early proto-punk band from Lakewood, among several Cleveland bands who predate the Sex Pistols, the Clash, and even the Ramones. The original line-up was Jamie Klimek (vocals and guitar), Jim Crook (guitar), Craig Bell (bass), and Michael Weldon (drums). The line-up for the Beachland show is Jamie Klimek, Tom Fallon (guitar), Jim Crook, Craig Bell, Dave Franduto (guitar) and Tom Madej (drums).
Charles, owner of what has been called "the real rock and roll hall of fame," Lakewood's My Mind's Eye Records on Detroit, described Mirrors as: "One of the greatest bands to ever exist. They exemplify everything that is smart and stupid about rock and roll, which is smart and stupid. They're fun, great songs, great playing." He said people should go see them because "they'll probably never get to see them again and will never see anything of that like or that quality again. They're lucky enough to have a chance to go see them, they should take that chance."
Craig Bell and Mike Weldon were students at Lakewood High, along with other early punk band members, John Morton, Brian McMahon and Dave E McManus of electric eels. Bell later joined another early Cleveland punk band, Rocket From The Tombs. Bell's advice for kids just starting out in bands from his old school: "Believe in yourself, believe in your dreams, live your life moving forward."
When asked why Mirrors were doing another show so soon (Klimek signed off after their Studio-A-Rama show saying, "See you in 38 years.") Bell explained, "Jamie was really energized by the show in September and wanted to do another, where we could expand the set and include songs we left off the list at WRUW due to time constraints."
When asked the same question, Klimek replied simply, "We got an offer." He commented that along with songs not performed at Studio-A-Rama, there will be a few surprises, including the world premiere of "Symphony In E Major." They plan to come out full guns blazing, he said, adding that "Videographers are welcome!" and that dancing would be appreciated. "Come one, come all!"
The Beachland Ballroom show is January 25th. Doors open at 8pm. Mirrors will play two 45-minute sets, from 9:45pm to 10:30, then 11pm to 11:45. The opening band is St. Jayne. Doors open at 8:00pm.
Read More on
Volume 10, Issue 2, Posted 4:03 PM, 01.21.2014