A Pastor's Thoughts On Light Up Lakewood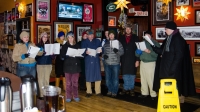 Lakewood is a wonderful place to live year-round, but there is something special about the Fall and Christmas time. Whether walking in the Metroparks or down the multi-colored canopy of one of our charming streets, this is a special time in our city. I moved to Lakewood in 2010 but it has taken me some time to find all that Lakewood has to offer, despite my periodic reading of The Lakewood Observer. For the last several years friends and I went on the Chocolate Walk put on by Lakewood Alive and last year a group of us went Christmas Caroling through the Downtown Detroit Avenue business district.
This year, as the Vicar (pastor) of the newly established Lakewood Anglican Church, I have learned a great deal about groups such as the Lakewood Community Service Center. We got involved in their community garden - albeit as latecomers - and we have been blessed by the conversations around the garden in Madison Park and the new relationships we've formed and continue to form as we seek to serve the community in this city.
You can imagine how excited I was to hear that Downtown Lakewood puts on one of the best events of the season with the Light Up Lakewood festival on December 6th, and that Lakewood Anglican could participate as a sponsor. The event got me to thinking theologically (as I am wont to do) about how lights piercing the darkness of the winter solstice and lighting up the streets of Lakewood are a perfect metaphor for Jesus coming into our world.
Back between 6 - 4 BC Jesus entered a world which was very different from our own. There were no Christmas lights or Black Friday sales. But there certainly was darkness. The darkness of instability, hunger, poverty, confusion, divided families, pain, addiction, hopelessness and despair. Some of those same types of darkness still consume many in Lakewood, and it can be especially difficult at this time of year.
But in the midst of this darkness the lights that we will turn on during Light up Lakewood, and perhaps on our own homes, remind us of what the author of John's Gospel writes, "The light shines in the darkness, and the darkness has not overcome it." The author goes on to identify that light as a person - Jesus the Christ - who came and lived, taught, healed and died. He was rejected by some but, "to all who did receive him [He] gave the right to be children of God." This Jesus is still the light and the hope of the world. He still lives, teaches, heals and brings the light of hope into the darkness of this world and can bring that hope into your hearts and mine.
What more wonderful way is there for Lakewood Anglican to remind people of Jesus as the light than to sing Christmas carols, talk to people and give out hot chocolate at Light Up Lakewood? And what better reminder to us all that we need not wander around in darkness alone? I hope to see you December 6th!
Father Sean
Holly Shaheen
The Reverend Sean Templeton is Vicar (pastor) of Lakewood Anglican Church which meets every Sunday at 5PM at Gethsemane Lutheran Church (14560 Madison Ave.) For more information visit their website at LakewoodAnglican.com
Read More on Religion
Volume 10, Issue 24, Posted 11:45 AM, 11.25.2014