All Kids Invited To Join Us For Vacation Bible School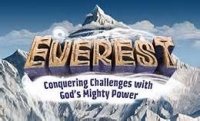 Lakewood United Methodist Church hosts 2015 Vacation Bible school!
All children pre-school through 5th grade will be climbing Mount Everest at Lakewood United Methodist Church from July 20-24. The children will be spending 5 days learning how to conquer everyday challenges using God's Mighty Power.
The children will be sure to have fun-filled mornings packed with music, games, science projects and crafting their own mountain top treats.
Director of Children's Ministry, Shannon Smoot ensures that LUMC will have an incredible group of volunteers (from youth to school teachers) who want to share their passion to help children have a positive experience and learn about how to connect with God to help empower them through their daily lives.
We start every morning at 9:30 a.m. with music and an introductory lesson to the day. The kids then rotate through stations that include interactive stories, imaginative hands-on science projects, games that get them moving, a café location where they will create their own treat and enjoy it in a camp-like setting while watching a short movie of children sharing their stories of conquering challenges they have faced. We will end every day in song and recapping the day's events, ending at 12 p.m.
The last day of Everest is sure to be a fun! We invite the parents to join us to see what the children have learned as we will celebrate with a mountain of surprises including snow cones and lots of activity!
Be sure to sign up your children at Lakewood United Methodist Church July 20th – 24th! As always our program is free but donations are always welcome! Stop in the church to register or go online.
We are looking forward to another successful Vacation Bible School!
For more information visit Lakewood United Methodist Church at 15700 Detroit Avenue, call 216-226-8644, or go to www.lkwdumc.org. Questions can be directed to Shannon Smoot, Director of Children's Ministry at ChildrensMinistry@lkwdumc.org.
Feel free to register online at www.groupvbspro.com/vbs/ez/LakewoodUMC.
Laura Jaissle
Pastor Laura Jaissle and Shannon Smoot
Read More on Religion
Volume 11, Issue 14, Posted 3:05 PM, 07.07.2015