Why I Trust Mike Summers To Lead Lakewood For Another Four Years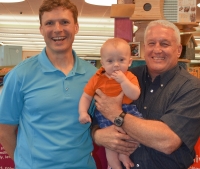 I don't always directly weigh in on elections affecting our community, but in this year's mayor's race, the choice is clear: Mayor Mike Summers is the best choice to lead Lakewood for another term, and I strongly support him for reelection. As a councilperson who works daily with Mayor Summers, I wanted to share why I trust him to lead our community for another four years.
Lakewood is on the right track, and city government is well managed. Mike Summers is a public servant with character, intelligence, and a work ethic second to none. His thirty-two years' management experience makes him the most-qualified elected official in the city for the job.
I'll say from the start that I respect the service of Lakewood's state senator, who is also a candidate for mayor. I respect his right to view the issues differently, although I disagree with some of his statements, and I believe some of his positions are based on misunderstanding. We all have a right to make up our own minds on both issues and candidates, and I hope we will do so in a courteous manner free from personal attacks. The citizens of Lakewood deserve a civil, thoughtful community discussion about the election for mayor this year—and every year.
So here are my reasons for supporting Mayor Summer for reelection:
Lakewood is experiencing some of its best days in modern memory. Exciting new businesses are opening in Lakewood almost monthly— more than $100 million dollars of investment have been infused into the Lakewood economy since Mayor Summers took office in 2011, a city record. Thousands of families are improving their beautiful century homes with more than $10 million dollars in improvements every year for the last two years. Lakewood has become the number one community of choice for young families in all of Cuyahoga County.
Under Summers' guidance, Lakewood has significantly improved our streets, parking, sewers, and parks—including the transformational Solstice Steps at Lakewood Park.
Lakewood is in the strongest financial shape we've been in for years, as measured by our robust financial reserves—our community's savings account. This is no small accomplishment, given state budget cuts to the Local Government Fund and tax revenue losses during the Great Recession.
Mayor Summers is strong on safety. He has partnered with City Council to maintain our Police and Fire Departments at full force levels, keeping the number of patrol officers at the highest levels they've been in our city's history. Under Mayor Summers, Lakewood has added police cameras, provided emergency responders with the best training, and modernized emergency radios (among the first in the state to do so).
To be sure, our entrepreneurs and homeowners are leading the way on reinvestment. But Mike Summers' leadership at City Hall is a big part of this success: his Administration has attracted new investment such as the McKinley Place cluster home development, improved home inspection quality and consistency, stabilized distressed properties, and beautified our public spaces.
With Mike Summers at the helm, I know City Hall will continue to improve. Through his diligence, attention to detail, and respect for employees, City Hall has, for the first time, implemented the LEAN process for continuous improvement (a management best practice used by employers worldwide). Mayor Summers brings a relentless attention to detail (rare among elected officials) that has already improved city procedures, budgeting, and staffing policies. These are important to continue for another four years so that efficiency, effectiveness, and customer service become deeply rooted at City Hall.
Let me tell you one issue this mayoral election is NOT about: it's not about Lakewood Hospital. The hospital is a City Council issue for this year and not a mayoral issue for next year. As we know, it's Lakewood City Council, together with public input from Lakewood citizens, that will make a decision about Lakewood Hospital, perhaps as early as this year. For a candidate to run on promises about Lakewood Hospital is confusing and misleading—since there is no guarantee those promises can be kept.
It's possible to support Mayor Summers, as I do, and still to ask tough questions about the proposal. As a community we can prefer keeping Lakewood Hospital as an inpatient facility, and reserve the right to consider alternatives. City Council has the hospital issue before it, and we will continue working on it in good faith and with all deliberate speed. We do not yet know what the outcome will be—only that City Council will make the decision with input from the public.
Finally, as a fellow elected official who works day-to-day with Mayor Summers, I can vouch for his job performance. Mayor Summers personally is thoughtful, fairly hears all ideas, researches carefully, works hard, and respects input from employees and residents. When it comes to new initiatives, he is neither afraid to try them nor blindly optimistic, but screens and evaluates each on its merits. On issues where he and I disagree, I can count on him to keep an open mind and to give my ideas a fair hearing. Sometimes I persuade him, and sometimes he persuades me; this is a thoughtful and collegial approach to leadership. I know City Council can get more done with Mike Summers as mayor. That's a real strength for Mayor Summers.
The choice is clear—and it's not a close one: Mike Summers is the best candidate for mayor. I respectfully ask you to join me in supporting Mayor Summers to lead Lakewood for another four years.
Tom Bullock serves Lakewood residents as their at-Large representative on City Council. Share ideas or concerns with Tom at 216-395-7LWD (-7593) or tom.bullock@lakewoodoh.net.
Tom Bullock
Tom Bullock serves Lakewood residents as their at-Large representative on City Council. Share ideas or concerns with Tom at 216-395-7LWD (-7593) or tom.bullock@lakewoodoh.net.
Read More on City
Volume 11, Issue 16, Posted 5:56 PM, 08.04.2015