Senator Skindell Statement On The Passing Of Former Lakewood Mayor Thomas J. George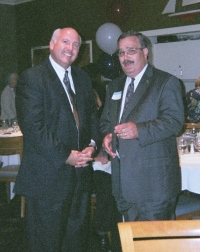 September 14, 2017, Senator Michael J. Skindell (D-Lakewood) released the following statement regarding the passing of former Lakewood Mayor Thomas J. George:
"I am deeply saddened to hear of the passing of my former Lakewood City Council colleague Tom George and send my deepest condolences to his wife Jane, children Meghan and Tim and all who knew and loved him."
"Mayor George will be known as a compassionate leader and public servant. A graduate of Lakewood High School, Tom served as Lakewood's Mayor for four years and as a member of City Council for sixteen years. In those capacities, Tom was an advocate for seniors and families and worked to protect the city's commitment to strong human services programs. Tom George faced the challenges of older inner ring suburbs by promoting small businesses, economic development, neighborhood safety, and preservation of an aging housing stock."
"His compassion for Lakewood led Tom to advocate for struggling cities at the state level by serving on the board of the Ohio Municipal League. His public service also extended to ensuring that our elections were conducted with integrity by serving as an administrator with the Cuyahoga County Board of Elections. Tom was a dedicated Democratic, having served on the central and executive committees of the Cuyahoga County Democratic Party."
"As a public servant, Tom George fought tirelessly for others. He loved Lakewood and he will be greatly missed."

Michael Skindell
Michael J. Skindell (D-Lakewood) was elected to serve Lakewood, Cleveland and Ohio's 23rd Senate District in November, 2010. He comes from the Ohio House of Representatives, where he served four terms as the Representative for Ohio's 13th House District. After graduating cum laude with a bachelor's degree in business and political science from Walsh College, Skindell earned his law degree from the Cleveland-Marshall College of Law. He represented the people of Lakewood as a Councilman at Large between 1998 and 2002.
Read More on Other
Volume 13, Issue 18, Posted 9:26 PM, 09.19.2017