Councilman O'Malley Holding Town Hall Meeting This Thursday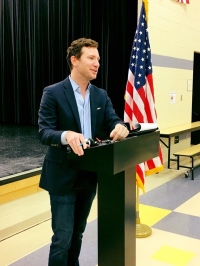 Councilman Dan O'Malley (Ward 4) will be holding his next town hall meeting this Thursday, December 7th at 6:30 p.m. The meeting will be held at the Old Rockport Firehouse, 1422 Hopkins Avenue. Residents are invited to ask questions, express concerns, or share ideas for improving Lakewood's neighborhoods.
This is the latest in a series of town hall meetings that O'Malley has held throughout the year. Refreshments will be served, and the event is open to the public.
Residents may also contact Councilman O'Malley at any time at Daniel.OMalley@lakewoodoh.net or (440) 552-7234.
Read More on City
Volume 13, Issue 23, Posted 10:05 PM, 12.05.2017