Congresswoman Marcy Kaptur Endorses Tom Bullock For State Representative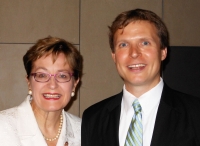 U.S. Congresswoman Marcy Kaptur announced her endorsement of Tom Bullock in the open race to represent House District 13.
"Tom Bullock has earned the support of his fellow citizens and of so many respected organizations because of his experience, integrity and leadership over the years. We need a proven fighter like Tom who can get things done for our communities. Tom Bullock will be the strong voice we need in Columbus," Congresswoman Kaptur said.
Bullock has served on Lakewood City Council for ten years. During that time, he has played an important role in making Lakewood strong: property values are increasing, business is growing, and the community is attracting young families, transforming its parks, and delivering high-quality services. He said he is running for state representative to continue strengthening communities and apply his ability to get things done to the entire 13th District.
"Cities are the engines of Ohio's economy. By making them stronger, we'll improve the entire state. But the state legislature in recent years has hurt our communities through severe cuts, encroachments upon home rule, and underinvestment in public transit and education," Bullock said. "And now there's word of major new attacks on workers in the form of "right-to-work" proposals, which is the wrong way to go. It will be through investing in workers and cities that Greater Cleveland and Ohio regain our historic leadership in innovation. That's the path forward to a growing economy, thriving communities, and more opportunities for everyone."
"I'm very proud to have earned the trust and confidence of Congresswoman Kaptur. She's been delivering results for Ohioans for decades. I aspire to follow her example in working effectively to solve long-term problems and help Ohio grow new industries. Like her, I will put working families first and work hard to grow jobs and improve opportunities in Ohio," Bullock added.
Bullock is also endorsed by the Cuyahoga County Democratic Party, Cleveland Building & Construction Trades Council, Cleveland Stonewall Democrats, Cleveland City Council President Kevin J. Kelley and Cleveland City Councilman Kerry McCormack, Lakewood Mayor Mike Summers, Lakewood Council President Sam O'Leary, Ward 15 residents Chris Ronayne and Jan Roller, and many others. House District 13 encompasses the cities of Lakewood and Linndale, all of Cleveland Wards 11 and 15, and parts of Cleveland Wards 3, 14 and 16.
Read More on Other
Volume 14, Issue 5, Posted 12:12 PM, 02.20.2018