Antonio, Skindell Win Primary Elections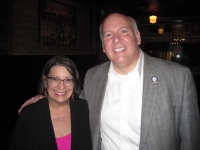 Nickie J. Antonio and Michael J. Skindell will be Democrats' nominees to represent Lakewood in the Ohio General Assembly, following last Tuesday's primary.

Lakewood voters' overwhelming preference for Antonio over Martin Sweeney settled a fight between two state representatives, each seeking a nomination to run for Ohio Senate District 23. In recent weeks the matchup drew repeated notice from local media.

Sweeney closed Tuesday with modest leads in most of the senate district, which includes Lakewood, Parma, and other western suburbs as well as parts of Cleveland. But an outlier result in Lakewood, which voted more than 3-to-1 for Antonio, gave her an overall victory of more than 54%.

At the same time, state Senator Michael J. Skindell defeated Lakewood City Council member Tom Bullock to be Democrats' nominee for Ohio House District 13. Skindell won slightly more than 55%, both in Lakewood and the two Cleveland wards which constitute most of the district.

The result is the second such for Bullock, following a primary loss to Antonio in 2010, when both sought Democrats' nomination for the Ohio House.

Antonio as well as Skindell are now ineligible to run for their current offices, owing to term limits, and both will seek to move between the two chambers of the General Assembly in November.

Each nominee will face a Republican opponent in the November election. Democrats' sizeable voter-registration advantage in each district, however, will favor Antonio's and Skindell's campaigns.

If elected, Antonio will be the first woman to represent the 23rd Senate District, and the first openly gay member of the Ohio Senate.
Matt Kuhns
Matt Kuhns is a freelance graphic designer, and occasional author.
Read More on Other
Volume 14, Issue 11, Posted 3:09 PM, 05.15.2018