Walk To End CMT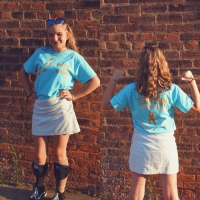 My lifelong neighbor and best friend, Erin Black, LHS '19, has been living with a rare neurological condition ever since she was diagnosed at seven years old. To most people the name Charcot-Marie-Tooth Disease does not ring a bell, and might even sound made up. For Erin, it is very real. Charcot-Marie-Tooth Disease (CMT) causes pain and muscle weakness in her legs and wrists, making some daily tasks difficult. It is treated with countless hours of physical and occupational therapies. Last August, Erin underwent surgery on her right foot in order to reconstruct muscles. It was a long recovery period, requiring lots of rehabilitation. She will have the same procedure done this June on her left foot.
Living with a disease like this is difficult because there is currently no cure. However, Erin is determined to help find one. In 2015, Erin teamed up with the CMTA (Charcot-Marie-Tooth Association) to start fundraising by selling bracelets and spreading awareness on social media. She has spoken at numerous events and attended many CMT events, including Camp Footprint last summer. Camp Footprint is a summer camp specifically for kids with CMT, engaging them in activities they wouldn't normally get to do, all while meeting new friends just like them. Erin raised over $1,000 through her bracelet sales, but she's not stopping there.
Once again teaming up with the CMTA, Erin is holding a Walk 4 CMT on June 30th. The event will be held at Lakewood Park (14532 Lake Avenue), and the walk will step off at 10 AM. Registration will begin at 9 AM. The walk will feature community activities focused on CMT education and fellowship.
You can register by going to Team Erin's CMTA page, https://cmta.akaraisin.com/pledge/Team/Home.aspx?seid=16140&mid=10&tid=170384. While there is no entrance fee, donations are appreciated, and can be made at Walk 4 CMT or on the website. We would love to see you there! Together, we can find a cure for CMT.
Anna Rigdon is a junior at Lakewood High School.
Anna Rigdon
is a junior at Lakewood High School
Read More on City
Volume 14, Issue 11, Posted 10:43 PM, 06.05.2018