Lakewood Loses One Of Our Brightest Lights, Nora "Lizzy" Swift-Kakuska In Two-Car Accident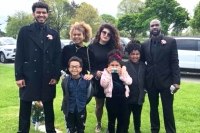 I had the pleasure of meeting Nora Swift-Kakuska and her husband Mwale while they were working on opening what has become one of the hottest salons on the West Side of Cleveland, Tease Hair Salon at 15112 Detroit Avenue.
Nora always greeted me with a smile, and an amazing attitude. She was a true force of nature. Over the years I became friends with Mwale, and had the pleasure meeting their family.

Thursday at 5:45pm her life ended in an automobile accident at the intersection of Marlowe and Franklin which is still under investigation. Whatever the outcome of the investigation Lakewood, her family, friends and all of us lost one of the bright lights in Lakewood, Ohio.

While I was speaking with her brother Iggy, he told me to make sure it was mentioned that Lakewood Police, especially Officer Jamison, and Officer Kruk, along with Lakewood Fire Dept. Supervisor Matt Burke and B Company were not just great, but went far beyond in helping his sister, and her family. Thank you.

Nora is survived by her husband Mwale, their childrenLogan, Liam, Moses, Kyebo andLola and her family Iggy, David, dearest niece, aunt, cousin and friend of many.
To donate to a fund to help the family Click HERE
To help with meals for family Click HERE

Visitation FridayJuly 6th, 4 - 8pm at Craciun Berry Funeral Home 7200Detroit Ave. Cleveland. FuneralMass Saturday at 11am at OurLady of Mount Carmel Church6928 Detroit Ave. Cleveland.

Jim O'Bryan
Publisher, Lakewood Observer, Inc.
Read More on City
Volume 14, Issue 14, Posted 8:01 AM, 07.05.2018