Grant Teacher Named CMA Teaching Fellow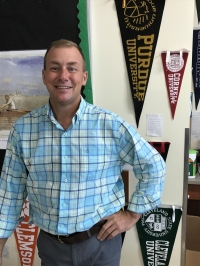 The Cleveland Museum of Art has enlisted the help of 10 educators across Northeast Ohio to serve as Teaching Innovation Fellows. Grant Elementary 5th grade Gifted teacher Sean McGuan has been selected as one of the museum's Teaching Fellows for the 2018-2019 school year.
As a Fellow, McGuan began working this summer with his nine other Fellows during a Summer Teacher Institute in July. During the summer session, the Fellows explored a variety of object-based learning methodologies and objects in the CMA collection. As the year progresses, Fellows will hone in on a research question impacting their own teaching and look for answers as to how art can be used as a learning tool across grade levels and disciplines. Fellows will reflect on experiences and will develop an object-based experience, which they will complete before the end of the 2018-19 school year. Fellows will meet 3-4 times to prototype ideas with each other, provide feedback, and report on the progress of their individual action-based research question/project.
McGuan has selected Auguste Rodin's "The Thinker" as the focus of his research project. He explains how he envisions incorporating the project into his student's curriculum:
"During visits to the museum, students will experience rigorous inquiry and research opportunities focused on this artist's work. Next, studies of this subject and relative curricular topics will lead students to question the relationship between public art and the human experience while anchoring their thinking in two worlds, the academic and cultural…..At every level of the experience the students will collaborate and develop confidence in their social and academic abilities."
"I look forward to the responsibilities and opportunities of this endeavor. I'm proud to represent Lakewood City Schools at the table," McGuan said.
McGuan is the second Teaching Innovation Fellow selected from the District as last year, LHS Art teacher Autumn Sabin participated.
Read More on Schools
Volume 14, Issue 20, Posted 2:23 PM, 10.02.2018