Grace-est Show On Earth To Feature "Slider"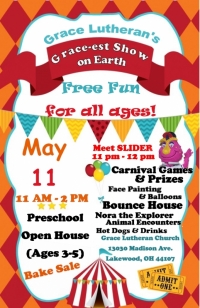 Grace Lutheran Church welcomes the Greater Lakewood Community to join them on Saturday, May 11th from 11 AM to 2 PM for their annual Grace-est Show on Earth Carnival and Grace Preschool Open House. This year's event will feature the Cleveland Indian's "Slider" joining the celebration from 11 AM to 12 Noon.
The Grace-est Show on Earth with feature carnival games and prizes, face painting, and balloons, all of which is free of charge to the public. In addition to Slider, there will also be a Nora the Explorer Animal Encounter. Hot dogs, drinks, and a bake sale will also be a part of the day's festivities.
The Grace-est Show on Earth includes an Open House for Grace Preschool. Grace Preschool serves children ages 3 to 5 and is a ministry of Grace Lutheran Church. The public is invited to take a tour of the preschool. Enrollment is now open for all classes.
So, come and enjoy The Grace-est Show on Earth! Grace Lutheran Church is located at 13030 Madison Avenue in Lakewood, directly across the street from Madison Park.
George Hansell
Pastor of Grace Lutheran Church since October 31, 2004. Married 41 years to Krista. Son Christopher is a Lutheran elementary school teacher in Waltz, Michigan. Daughter Jennifer received her Doctor of Veterinary Medicine degree from Ohio State University in June 2010 and currently practices in the Washington, D.C. area. Pastor and Krista Hansell are the proud grandparents of two grandsons and one granddaughter
Read More on Religion
Volume 15, Issue 9, Posted 8:01 PM, 05.08.2019