Rep. Skindell Endorses Meghan George For Mayor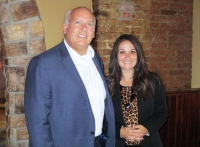 State Representative Michael J. Skindell is giving Meghan F. George his formal endorsement as Lakewood's next mayor
"Meghan will bring valuable qualifications and maturity to this office," says Skindell.
George's record on city council, Skindell says, has proved that "she will represent our community with integrity, honesty and dignity."
"Most important of all, Meghan will put Lakewood residents first, and stand up to big developers and other special interests. I encourage Lakewood to join me in supporting Meghan George to be our city's next mayor."
Recent recommendations from Skindell, and from Matriots Ohio, join a growing list of endorsements for George. AFSCME, Cement Masons, and United Food & Commercial Workers have also backed her campaign.
George says she appreciates the declaration of support. "Rep. Skindell is a dedicated public servant for Lakewood, advocating for seniors, for equality and fairness, for our environment, for all the things we value," says George. "I am honored to earn his formal endorsement."
Matt Kuhns
Matt Kuhns is a freelance graphic designer, and occasional author.
Read More on Other
Volume 15, Issue 16, Posted 3:19 PM, 08.21.2019