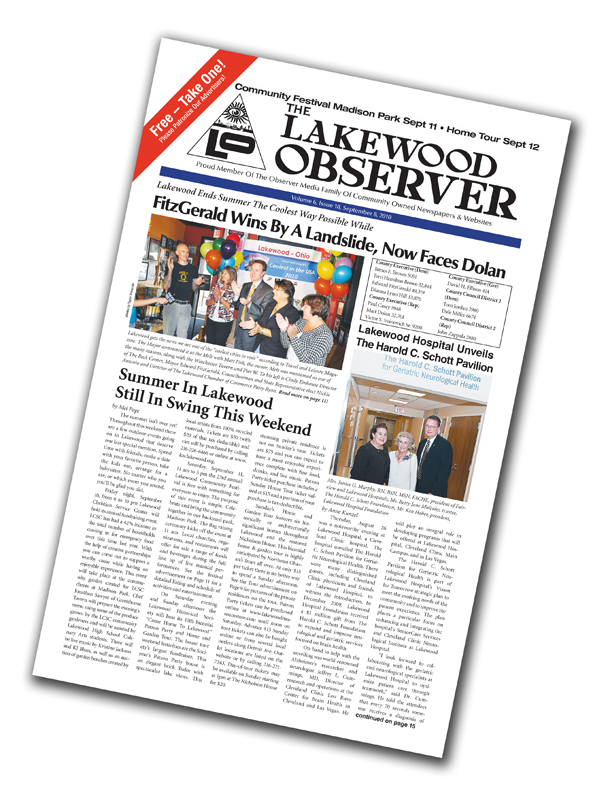 http://media.lakewoodobserver.com/issue_pdfs/Observer_Vol_06_Issue_18.pdf
All
I would like to thank once again everyone that works on this project. Especially Margaret
Brinich, Mel Page, Betsy Voinovich and my wife Debra O'Bryan. All turned in some pretty
damn impressive work and effort on this issue, and it is appreciated by me.
Woman Power - Damn Impressive
In this issue.
Voter Results
Summer In Lakewood, Still In The Swing This Weekend and Calendar - Mel Page
Lakewood Coolest and Best - Margaret Brinich and Frank Lanza
Sports - Randy Varcho
More Schools Rated Excellent - Gordillo
A Hero Comes To Lakewood/H20 - Annalisa Perez
Lakewood Catholic Academy Coverage - Paul Nickels
Lakewood Observer Kid's Corner!
Beck Center Kicks Off New Season - Fran Storch
Columnists - Bret Callentine, Gary Rice, Rev. John Tamilio III
Library News and Calendar - Martha Wood
And What Happens If Ed Wins! Rules To A New Mayor - City Council President Kevin Butler
Those pesky Lakewoodites, penned by Rob Masek.
Thanks again.
Damn I love living here!
.