Gallery Watch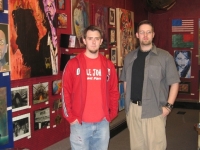 On Saturday, June 3rd, The Pop Shop Gallery and Studio celebrated its first year anniversary with a show entitled, "Pop-O-Matic". This celebration show housed many artists that participated in the opening back in May of 2005, along with artists who have since joined the gallery. Artists included Jeff Hulligan, Julie Krofcheck, Anthony Washington, Inky Lorain, Meredith Hahn, Jeremy Mann, Rob Jones, Rich Bogart, Kim Cheon, Arabella Proffer-Vendetta, Adam Braun along with works by owner, Rich Cihlar. All the artists are local with the exception of Anthony Washington who hails from Mississippi.
The art represented in the show was contemporary in style, surreal in content, edgy and thought-provoking. Some pieces teetered on the dark side psychologically and remained in our minds long after we left the show. The attendees numbered somewhere between 100 and 150 (we lost count after a while) and were a mix of hip, young college-aged art patrons, teenagers, young couples with children and older art aficionados. The gallery was packed when we entered at around 7:30pm, people had even spilled out onto the sidewalk, and everyone seemed to be captivated by the seductive and absorbing style of art displayed.
We took a few minutes to talk with Rich, the owner, about his gallery and the Lakewood art scene. Surprisingly, he found that the Lakewood art scene was bigger than he original thought, commenting further, "It's no NYC, but it's there. It just needs a good kick in the butt, and that's why I'm here." He refers to his gallery as, "Cleveland's most ultra-violet," and has certainly carved his own niche in Lakewood's art scene by providing unique art that you won't find in most of the galleries in this area. Happy Anniversary, Pop Shop, and may your second year in business surpass your first!
"Have no fear of perfection, you'll never reach it."
- Salvador Dali
Gallery Events for June 13th through June 26th:
Beck Center for the Arts
17801 Detroit Avenue
216.521.2540
"Bold Intentions" is an exhibit by local Cleveland Photographer Greg Terepka from June 21 - July 23. Bold Intentions displays an intimate viewpoint of ten relatively common flowers to highlight their intense depth of color, fine texture and remarkable lines from an uncommon perspective.
bela dubby
13221 Madison Avenue
216.221.4479
Bi-Annual Group Show will run through June.
Hours: Tuesday, Wednesday, Thursday 10 am - 10 pm, Friday and Saturday 10am-midnight.
Local Girl Gallery
16106 Detroit Avenue
216.228.1802
Make your Dad... and don't forget about Grandpa... a hand made Father's Day Tie! Call Linda for details.
Hours: Tuesday, Wednesday, Thursday 12-5pm, Friday and Saturday 12-6pm.
Pop Shop Gallery and Studio
17020 Madison Avenue
216.227.8440
Pop-O-Matic show is to run through July 15th. Please note new gallery hours.
Hours: Monday-Friday 4pm-8pm, Saturday 2pm-6pm.
Wobblefoot Gallery and Frame Studio
1662 Mars Avenue
216.226.2971
Showcasing the master watercolorist and book illustrator, Tim O'Connor. He has worked for Walt Disney, Walter Lantz, and Dr. Suess, illustrated for the Moody Bible Institute and many others worldwide.
Hours: Tuesday - Friday 10am-6pm, Saturday 10am-4pm.
Art gallery news and event information should be forwarded to gallerywatchgals@yahoo.com. Every effort will be made to include it in our next column.
Read More on Gallery Watch
Volume 2, Issue 12, Posted 10:10 PM, 06.05.06