Gallery Watch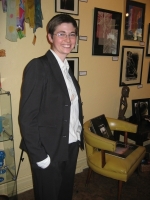 Gallery Events for July 25th through August 7th
bela dubby and Local Girl Gallery hosted two vividly lucid and expressive shows on the evening of Saturday, July 15th.
bela dubby hosted "No Surf in Cleveland". This show is curated by skateboarding enthusiasts Vince Frantz and Stosh Burgess. Vince and Stosh both skated in the 70s and 80s and are advocates for the sport and riders today. In talking with Vince he will tell you that the show was the idea of Stosh about 18 months ago. This show is a documentary of the sport's evolution and a photo-expression of an art form.
The show consists of some 300 photographs of the Cleveland Skateboarding scene during the last 35 years. To collect the photos Stosh and Vince put the word out to skate shops in the area and asked for photos, videos, newspaper articles or anything having to do with skateboarding in Northeast Ohio. The result-- a flurry of response- which continues and will be the catalyst for future shows.
And in case you didn't know and as the title of the show hints, skateboarding was originally tied to the surfing culture. As skateboarding migrated across the US to places unfamiliar with the surfing or its culture, it developed it's own, which as you peruse the pictures, you will quickly realize. Skateboarding has long been tied to the punk subculture, too, but over the last decade with skaters like Tony Hawk and Andrew Reynolds it has become more mainstream in the sense of being viewed as a competitive sport while still retaining its "cool" and "artistic" elements.
In attendance was professional skateboarder Kristian Svitak accompanied by his wife Trisha. Kristian is a Northeast Ohio native who made a special appearance to check out the show. There are even a few photos of him back when he was still living and skating here.
Before I left, I asked a young skateboarder, Hunter Masters, age 8, his initial impression of the show, and he gave me the "thumbs up"- and I would have to agree.
Same night, down the street at Local Girl Gallery, artist Samara Peddle presented "Stripped Simple" a collection of various pieces from her body of work. Samara graduated with a BA in studio arts from Lipscomb University in Nashville, TN. Her previous exhibits include Rapid Stasis: Time and Space on Cleveland's Transit Lines at GOPA and Structured Through Frames-- a study of the beauty and sadness relating to land, society, homeless and the lonely found in the US and Europe.
In this show, Samara exhibits photography from her numerous visits to Europe along with a collection of nude paintings. When I asked Samara her inspiration for the nude work, she simply said that is was her means of expressing her feelings when she was "coming out".
I then asked Samara how she came to find Local Girl Gallery, and she said that she had heard about Local Girl through a friend, and that Linda is fantastic about promoting upcoming artists. And as usual, Linda hosted a well attended and thoughtfully planned soiree for her guests and the featured artist.
At the end of our interview, Samara handed me one of her poems and I found these few lines were a prolific way to describe this show,
"A simple charcoal line finding the harmony beauty mystery my expression of admiration of freedom love stripped simple"
Both shows will remain installed for the next week or so, so hurry in.
.
Beck Center for the Arts
17801 Detroit Avenue
216.521.2540
bela dubby
13221 Madison Avenue
216.221.4479
Hours: Tuesday, Wednesday, Thursday 10 am - 10 pm, Friday and Saturday 10am-midnight.
Local Girl Gallery
16106 Detroit Avenue
216.228.1802
Hours: Tuesday, Wednesday, Thursday 12-5pm, Friday and Saturday, 12-6pm.
Pop Shop Gallery and Studio
17020 Madison Avenue
216.227.8440
Hours: Monday-Friday 4pm-8pm, Saturday 2pm-6pm.
Wobblefoot Gallery and Frame Studio
1662 Mars Avenue
216.226.2971
Hours: Tuesday - Friday 10am-6pm, Saturday 10am-4pm.
Art gallery news and event information should be forwarded to
gallerywatchgals@yahoo.com
. Every effort will be made to include it in our next column.
Read More on Gallery Watch
Volume 2, Issue 15, Posted 10:10 PM, 07.18.06