You Are Here - "Now They Know"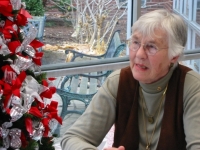 Elizabeth Zander is a 78-year-old retired office worker and real estate broker. She has lived in Lakewood since 1959; her favorite places in town are The Oasis and the courtyard at The Barton Center.
"Number one on the list is Lake Erie. The smell of it, the feel of it, the wind of it, everything. I just love Lake Erie and I'm almost on the lake over there. Oh, the art studios and the antique shops that there are. Just so many things, just browse around. A lot of good eating areas. A lot of good friends here. Really, it's so convenient. Everything is right here, grocery stores and pharmacies, malls, they're all pretty close to Lakewood, so that's an ideal situation. The parks, of course, the Metroparks along the Rocky River. My church is here. Just an awful lot to do here if you want to do it. You can work at the Beck Center. You can volunteer out of anywhere. The hospital is so close, the Beck Center I go to. There's just everything here. It's just a big little town. It's like going downtown, but a little town. I think they made it very comfortable, especially if you like to inhale the lake, the fishy smell, which I love.
Lakewood is on the up, it's growing, not going down. To me that's good. To put their money in a city, they must know something we don't know, or we do know but now they know."
Jason Weiner lives in Lakewood with his wife, Kristine Williams. He teaches Sociology, does research and plays drums; she teaches third grade and does painting and knitting for local galleries. Jason's favorite place in Lakewood is the Purple Martin house in Lakewood Park, while Kristine is quite happy under the oak trees in her own backyard. Both enjoy gardening and watching the birds in their backyard with their dogs Max and Gracie; they also have a cat (Emily) and several fresh-water fish.


You Are Here is a photo-documentary project highlighting Lakewood residents and what they think and feel about their city. We feel that a project like this shares a great affinity with many of the community efforts happening in our city. We are witnessing the emergence of an engaged, pro-active and committed community dedicated to creating the kind of place that we want to live in. But the question remains: who are you? To that end, we would like to use this project as a forum to meet as many Lakewood residents as possible. We would like to photograph you in your favorite place in Lakewood and discuss what you feel makes Lakewood a special place. These biographical vignettes will be published regularly in the Lakewood Observer. Publishing them in the Observer means that you get to share, and other people get to learn about, who you are and what you feel makes Lakewood a special place. Ultimately, a quilt of individuals and experiences will be available to all who live here, and those who do not live here yet, strengthening the sense of community that is Lakewood, Ohio.

Are you interested in participating? Contact Jason Weiner and Kristine Williams at lakewoodandyou@yahoo.com or by calling 216.221.5146.
Read More on You Are Here
Volume 2, Issue 25, Posted 9:09 AM, 11.27.06