In His Eyes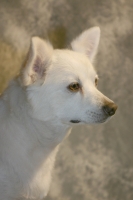 The last few days have been hard. With the recent deaths of friends' relatives and witnessing their grief, the heavy snowfalls that created icy roads, skid-outs, accidents, traffic jams, flaring tempers, snow bans, and parking lots filled with snow banks caused by snow plows, and worse of all the need for shoveling my driveway. Then the city snow plows doing their job and blocking off the driveway just shoveled.

Then there are the normal headaches faced every day: mortgage payments, doctor bills, utility bills, concerns about my children, grocery shopping, getting the laundry done, house cleaning and maintenance, and the list goes on and on.

Through all this one thing keeps entering my mind. Him! The time we will spend together, his eyes looking deep into mine. As we sit side by side in the evening watching T.V., what will he be thinking? I can feel his breath against my face, his tongue against my neck and ears, his body radiating warmth. The quietness of his strength.

Though I consider myself manly in many regards, when I get home and open the door and see him standing there, I feel a sensitivity as he waits for me to enter, having no expectations of me other than to show him love, and in return I know his heart is mine, his soul is mine, his spirit lives just for me. He makes me feel there is no one more important than me, that no matter what I am faced with I can overcome it. That nothing the world can throw at me I can't face and conquer. He eases my soul, he lifts my burdens, he eases my tensions and he does all this without saying one word.

Though there have been many loves in my life and still are, his is one of the most special loves that can be had. He is my confidant, my source of inspiration, my keeper of secrets and dreams, my friend, my buddy, my pal. He is my dog.
Read More on Flora and Fauna
Volume 3, Issue 5, Posted 9:09 AM, 02.19.07