The Beginning of My Love Affair With Lakewood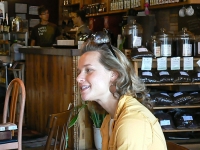 Virginia Konchan, 28, has only lived in Lakewood for six months, but in a sense has come back home. Originally from Bay Village, professional and academic pursuits took Virginia around the United States until earlier this year, when she returned to Northeast Ohio and ultimately settled in Lakewood. Currently, she is a freelance writer pursuing an MFA from Cleveland State University. We met Virginia at the Phoenix Coffeehouse on Detroit Avenue, the one place in Lakewood, she says, that has continuity with her past; it's still her favorite place to read, write, meet new people and, of course, drink coffee.
"I graduated with a college degree in English and I wasn't really sure what I wanted to do. Soon after moving back here I started applying to programs and I got into CSU and started taking classes there as a non-degree-seeking student, and then got into the program full time. I was one of those people who left Cleveland at 18, not having really burned any bridges per se, but definitely with that whole "Ohio sucks – I'm outta here" kind of mentality, only to kind of mature over the last six or seven years. While I can say that one of the reasons I came back was my family, I do feel like I'm here on my own volition because I certainly could have gone other places too. I feel like I'm choosing to be here and I'm also choosing to stay here.
I know a lot of people my age are looking at, and I did too, Tremont and Ohio City and kind of like "hipper areas." The reason I moved to the west end of Lakewood in particular is because I can walk – like a mini-hub, like a mini-New York City or like a mini-metropolis – to almost everything. I take voice lessons at the Beck Center; I walk there. I walk to Nature's Bin, which is where I do my grocery shopping. I don't really go to the bars that much, but when I do, I walk. When I go running, I walk to the Metroparks, go in there and go running. I literally can walk to just about everything that I need to do other than going to school. Having grown up in the suburbs, I never really thought I could have that experience in Cleveland. And I don't think I could have that anywhere else other than Lakewood.
I am a huge patron and supporter of public libraries, and living here and having the Lakewood Library transformed is a big part of my appreciation of Lakewood. I loved the former library and I love this library and I'm a frequent patron, checking out the events that they've got going on. I'm involved with LEAF. I've worked with them a little bit with their gardening and also I have a time-share with the program, so every Thursday I go down – now they're at the library – pick up my share and also give them my compost.
Yesterday, I was at a new store – it's like a vintage and resale clothing [place]. They were having an art walk there last night and it was like 15 participating businesses and there were people collaborating. I'm into the art scene and especially in Lakewood – it's supporting local artists. I love to talk to store owners up and down Detroit, going into new retail spaces or new restaurants and just talking to people. There's certainly traffic – I think a lot of the small business owners here probably would say that they do a fair amount of business, especially on the weekends – but no one is ever too busy to the point where they can't talk to me. There's not a harried feel, to me at least, in any restaurant or establishment in Lakewood."
***You Are Here is a photo-documentary project that highlights what Lakewood residents think and feel about their city. Interested in participating? Please contact Jason or Kris at 216.221.5146 or lakewoodandyou@yahoo.com.
Read More on You Are Here
Volume 3, Issue 22, Posted 12:44 PM, 10.14.2007