Watching Lakewood Go By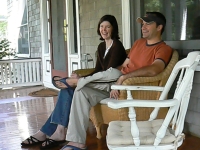 Christian and Kristin Warzocha, both 36, have lived together in Lakewood for 11 years. They were joined recently by their one-and-a-half year old daughter, Samantha. The Warzochas met at John Carroll University and lived in the east-side suburbs of Cleveland for several years before moving to Lakewood. Kristin works at the Cleveland Foodbank and Christian works in the health insurance industry. We met the Warzochas on their front porch, their favorite place in Lakewood, on a scorching Saturday in August, where their tall oak trees provided ample shade, and the breeze from Lake Erie cooled down the humid air. Kristin and Christian discussed what it is they each love about Lakewood.
"The sense of community. That's what I really do like. Just the community feel of it. The fact that we don't have any big box stores here, but that we can get to them if we need them. My dad loves coming up here because he said it reminds him of the town he grew up in. You never have to leave Lakewood if you don't want to.
But also that it just has the feel, for me, of a nice big neighborhood: it's walkable, has friendly neighbors. And it's an older community, which I like. The older homes, and the charm that comes with those older homes, and the fact that they're all different. It's a diverse community.
You can walk anywhere you want. It might take you a while to get from the east end to the west end, but you can walk anywhere you want. We walk up to the library and get our vegetables most weeks. You can walk to Lakewood Park. It's pretty neat that you can walk anywhere in Lakewood that you need to go. And you see it. People walk to the grocery store. You see people pulling those little metal carts full of groceries. I didn't see that in South Euclid or in Cleveland Heights when we lived in Coventry. I think that's unique.
One of the things that I've appreciated this year for the first time is the Lakewood Fourth of July parade, which I think is like going back in time. It could be 1950 when the Lakewood Fourth of July parade goes by. [An] old fashioned community day where everybody comes out and I think that's great fun. From the parade to the free concert on Sunday nights in the park, there's a lot to do with the family, or a lot to do if you don't have a family, in Lakewood.
We love sitting on the front porch and watching Lakewood go by. I mean, you can sit out here early in the morning until late at night and there's all these people riding their bikes, walking their dogs, kids around. There's always something to watch sitting on the front porch. There's something kind of cool about that. It's neat to be able to sit here and watch life go by."
***
You Are Here is a photo-documentary project that highlights what Lakewood residents think and feel about their city. Interested in participating? Please contact Jason or Kris at 216.221.5146 or at lakewoodandyou@yahoo.com.
Read More on You Are Here
Volume 3, Issue 18, Posted 8:17 PM, 08.27.2007