Chef Geoff Buys the Farm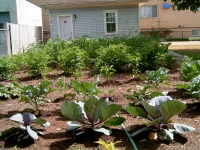 There is a clear and obvious relationship between summer gardens and the food that finds its way to our dinner table. The nexus, while clear, is many times overlooked and undervalued. Little, if any, attention is paid to the obvious dietary and financial benefits of food we produce ourselves. These products are fresher and, many times, avoid the chemical additives present in industrial farms. In addition, buying locally or growing your own eliminates the storage and transportation costs involved in buying fresh items from halfway around the world.
Support of local farmers and the concept of sustainable agriculture is indeed a noble and compelling goal, but what strikes me as ironic is the lack of thought that many give to their own importance in the equation, beyond selecting organic or locally grown produce when they go to the market.
I have always enjoyed vegetable gardening. In years past, when family responsibilities were not so abundant, the wealth of produce from my backyard plot could well provide spaghetti sauce, pickles, and other frozen and canned summer foods to last well into the winter. This profusion was above and beyond the vegetables handed out to friends, family, and neighbors and those consumed during the course of the summer.
In addition to the food itself, knowing that what was being eaten had been grown by my own hand (and precisely what went into that process) gave me great satisfaction. Unfortunately, as I mentioned above, the joint hurdles of family responsibilities and the growth of a neighbor's tree shading my plot had caused me to drastically curtail my own personal produce-producing proclivities. But, this year, in an epiphany, I realized that the backyard of my office possessed both abundant sunlight and a lawn which could charitably have been classified as having a wealth of weeds.
With that in mind, I set about to do some creative landscaping. After the replacement and relocation of a stone walk and a day of rototilling, a third of the backyard became a 20'x 50' garden plot. The addition of four cubic yards of mulch has, by and large, kept the weeds at bay.
And, now, I am just beginning to enjoy the vegetables of my labors. Corn, which is required to be knee-high by the Fourth of July, is on schedule to be on level with my ever-increasing waist. The first heads of broccoli have been harvested and consumed and, from the looks of it, tomatoes, eggplant, and peppers are not far behind.
My rekindled green thumb made me start to wonder which is of more benefit: a 10'x 20' foot strip of grass, or a 10'x 20' garden of vegetables? The law requires mowing, fertilizing, and weed control. The garden, if done properly, once planted, requires watering and mulching. The grass yields, if properly maintained, a lovely green carpet, while the vegetable garden, pound after pound of pesticide-free produce. I dare say that, with the obvious downside of losing a quarter of your real estate, the advantage goes to the patch of vegetables over the carpet of Kentucky blue grass.
To me, it doesn't seem to be a difficult decision as I look out over a patch that has everything from red cabbage, broccoli, and Brussels sprouts to half a dozen varieties of peppers, tomatoes, squash, beets, and sweet corn. Would I rather be eating a sun-warmed, ripe tomato picked off the vine or cutting the grass?
Lakewood was once a community made up of homestead farms. Those farms are a mere remnant, now memorialized in various street names in a community of lush green lawns. Wouldn't it be a wonderful throwback to once again become a farming community with hundreds of patches producing thousands of pounds of fresh produce? Perhaps I am a bit unrealistic, but next spring instead of hearing the noise of lawn mowers, wouldn't it be a delightful change to hear the sound of rototillers churning away?
Read More on Chef Geoff
Volume 3, Issue 14, Posted 4:23 PM, 06.29.2007