Colin Teets Update 11/1/08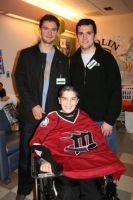 Grandma Judy came to the hospital this morning and spent the day with Colin. They hung out and played numerous games: Trouble, Sorry Sliders, and Racko. This allowed me the opportunity to attend Megan's last soccer game and take the rest of the family for haircuts. Kevin got his head shaved for Colin. He didn't mind the clippers one bit, and he looks even more like Colin now.
We all visited with Colin later in the afternoon. He was full of smiles for Kevin's new look. The Greenburg Family stopped by for a visit, too. They brought well wishes from two other sixth grade classes at Parkside Intermediate School; Mrs. English and Mr. McMorrow. As I write this, Colin is sleeping under a soft, warm OSU blanket. And, I look forward to reading the books with him. It will be much more stimulating than Cartoon Network! Thank you for thinking of him.
VISITATION:
Schedule week of 11/1:
Sunday 11/2 Free all day
For those that have inquired about visiting Colin during the week, his open times are as follows:
Mon. 12-1, 2-4, 4:30-8;
Tues. 10-11, 12-2, 3-8;
Wed. 12-1, 3-8;
Thurs. 12-2, 3-8;
Fri. 12-1, 2-8
Read More on Colin Teets UpDate
Volume 0, Issue 0, Posted 4:57 PM, 11.02.2008