Earth Day is Coming!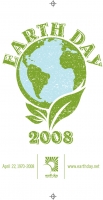 Celebrated for more than 35 years, each April 22nd, Earth Day has been important in promoting environmental awareness around the world. Its growing significance has made it the largest secular holiday in the world, involving more than one billion people, according to the Earth Day Network. The Earth Day Network, founded by the original creators of Earth Day, has seen it as a way to promote civic engagement, broaden the meaning of "environment," mobilize communities, support groundbreaking educational programs, and assist with worldwide events.
This year, the EPA has established the Great Lakes 2008 Earth Day Challenge, challenging communities around the Great Lakes to collect one million pounds of electronic waste (e-waste) and one million unwanted pills. If disposed of improperly, the materials in e-waste can harm human health and our environment, while the chemicals in unwanted pills can leach into our water supply and endanger fish and other animals. In response, the Cuyahoga County Solid Waste District is collecting unwanted computer equipment for recycling or refurbishing during the month of April. Donations are tax deductible. For more information, contact the Solid Waste District at 216-443-3749 and see the EPA's website at http://www.epa.gov/greatlakes/earthday2008/.
Twenty years after the first Earth Day, the Earth Day Coalition was formed in Cleveland. The Earth Day Coalition works with students and teachers on educational programs, works with businesses and institutions to promote energy independence and cleaner air, and works with communities to improve local air quality and energy efficiency. They also plan Cleveland's annual EarthFest, one of the most successful Earth Day celebrations in the country. This year's EarthFest is to be held on Sunday, April 20th, from 10am to 5pm at the Cleveland Metroparks Zoo. The festivities will be entirely wind-powered and will feature over 150 exhibitors on topics such as local and organic food, clean transportation, green home improvement, and environmental science, as well as children's activities, food, and entertainment. Admission is free if you register to walk or bike for the Earth or take the RTA Clean Air Bus from Public Square, or $7 for adults and $4 for children (free for under age 2).
For Earth Day festivities even closer to home, Lakewood's celebration of Earth Day will be held on Saturday, May 3rd, from noon to 4pm at Lakewood Park. There will be crafts, activities, games, and food, and admission is free! In addition to Earth Day, the even older tradition of Arbor Day is coming (April 25th), and Lakewood will celebrate at 10am in Lakewood Park, with a tree planting and ice cream social. And if the tree planting doesn't satisfy your thirst for gardening, check out the Leaf Humus & Perennial Plant Sale in the Old Stone House parking lot at Lakewood Park on Saturday, April 26th, from 9am to 1pm (or when everything is sold). For more information, or to volunteer at these events, contact the Lakewood Recycling and Litter Prevention Office at 216-529-6170.
Read More on Conservation Corner
Volume 4, Issue 8, Posted 11:01 PM, 04.03.2008