Community Gardening in Lakewood: Help Us Grow!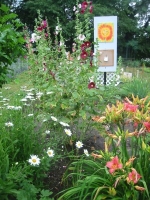 April is National Gardening Month, a time when people across the country celebrate the benefits of gardening. Here in Lakewood, a great way to celebrate is by taking advantage of community gardening with the Lakewood Earth & Food (LEAF) Community. The LEAF Community, whose initiatives also include Community Supported Agriculture, Earth Building, and Bulk Buying, plans to have several new gardening sites for the upcoming growing season, in addition to the already established Plover Patch in Bird Town.
Gardening here in Lakewood will have a number of advantages, including helping the environment. If everyone in Lakewood switched to eating locally produced food for a year, up to 35,000 tons of carbon dioxide would be eliminated. This is because an average meal travels roughly 22,000 miles before reaching your plate, emitting greenhouse gases from the industrial farming operation through the packaging, refrigeration, and travel processes. Vegetables that travel these distances are grown to do so - they are picked early and bred for sturdiness rather than taste, which brings us to another benefit of eating vegetables grown close to home - flavor!
Aside from environmental issues, community gardening has a great deal of potential to benefit you and your family. Community gardens have been shown to raise property values and lower crime rates in adjacent areas, while providing hours of enjoyment to those who work them. Gardening can provide physical activity, camaraderie with neighbors, and stress relief, while contributing to overall wellness. It's a great activity for youth involvement and intergenerational interaction, and has been shown to improve nutrition in those who participate. The vegetables grown may help offset rising food prices and may represent a great escape to green space for apartment dwellers (of which Lakewood has quite a few). And all of these benefits come together to create a true community spirit.
If you'd like to get involved with community gardening in Lakewood, or learn about other LEAF activities, check out http://www.leafcommunity.org and fill out the interest form at the bottom of the page. Look out for LEAF Nights at the library, featuring arts and entertainment with local foods for sale, and consider joining one of our Community Support Agriculture (CSA) programs for more access to locally grown food!
Read More on Conservation Corner
Volume 4, Issue 8, Posted 3:51 PM, 04.09.2008