Council Commends Billy Butler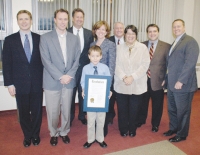 Council President Michael Dever called the October 7, 2008 meeting to order at 7:47 P.M.
Mary Louise Madigan (ward 4) presented a resolution commending Billy Butler "For demonstrating community spirit by raising money for charities and promoting environmental awareness." The resolution also expresses Council appreciation in Billy's commitment to bettering the lives of others.
Sensing competition from a younger namesake, Kevin Butler (ward 1) was quick out of the box to offer his congratulations to the younger name holder.
Billy's parents were on hand for a ceremonial picture with the entire council and mayor.
Neighbor Andy Bodi and his wife Trudi, who have lived across the street from the Butlers for years said, "we are all proud of him on Arthur Avenue."
In exclusive corridor comments to the Lakewood Observer, Billy Butler modestly allowed that he was "proud to receive this resolution."
On the November ballot Issue 2, renewal of the Clean Ohio Fund will appear. Tom Bullock (ward 2) in a letter requesting council support for the issue listed arguments in favor of the issue.
This fund was first approved in 2000 in order to preserve natural areas and farmland, protecting waterways and redeveloping urban areas to foster economic growth. Since it began, Clean Ohio has protected over 26,000 acres of working family farms, created 216 miles of recreational trails and cleaned up more than 173 abandoned industrial sites, known as brown fields.
Bullock pointed out that in Cuyahoga County, Clean Ohio has brought $1.6 million for recreational trails, over $14 million for green space, including areas around the Rocky River, and another $27 million for community revitalization.
Further, Bullock said that passage of this issue would not raise taxes. It will be paid with state bonds and existing state revenue. Passage of the issue will bring in matching federal funds, too.
Lakewood City Council unanimously agreed and recommends that Lakewood voters vote in favor of Issue 2 in November.
Council then approved the appointments of Jen Barnes, Julleen Russell, and Kevin Butler from council to the newly formed Animal Safety and Advisory Board. When the administration appoints its members, a December organizational meeting is likely.
The meeting was adjourned at 8:45 P.M.
Read More on City Council
Volume 4, Issue 21, Posted 5:34 AM, 10.11.2008