Colin Teets Update 10/15/08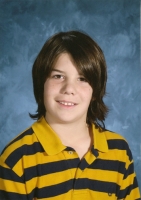 Colin Teets
Age 11
Colin had an Arterio-Venous Malformation, or AVM, rupture in his head during hockey practice in the evening on Thursday, October 10. An AVM is an abnormal collection of blood vessels in the brain. To learn more on AVM visit: http://brainavm.oci.utoronto.ca/malformations/brain_avm_index.htm or http://www.cumc.columbia.edu/dept/cerebro/AVM.html
Colin was rushed to Metro Hospital for emergency brain surgery. They were able to remove the hemorrhage from the brain, but due to the difficult location of the AVM, decided to wait for swelling and agitation of the brain to subside before removing the AVM itself. He was placed in the Pediatric Intensive Care Unit of Metro Hospital.
The latest news on Colin is promising. He had his breathing tube removed Tuesday, after a failed attempt on Sunday. He struggled at clearing his air passages so his breathing is being assisted by an I-PAP machine that forces air into his airways. The plan is to wean him from this machine and get him breathing on his own.
As of Wednesday morning around 4:00 am, Colin has significantly responded to commands. He gave a thumbs up, held up two fingers, gave the nurse "five" and felt around his head. He was able to respond to questions of pain with a thumbs up. He is moving his left arm and leg, but the right side of his body is only responding reflexively. Based on the location of the AVM, it is suspected that Colin will have some difficulties with speech and language, as well as movement.
From PICU the doctor would like Colin placed at an inpatient rehabilitation facility where he will await the upcoming surgery to remove the AVM. This way no time will be wasted, and he can begin therapy as soon as possible
The Teets family would like to take this opportunity to thank everyone for their concerns, thoughts, and prayers. We feel very lucky to have such a big support group.
Read More on Colin Teets UpDate
Volume 4, Issue 22, Posted 8:28 PM, 10.16.2008