LEAF Community Offers Two CSA Programs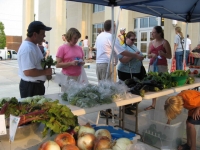 Community Supported Agriculture (CSA) is a term given to a model of food production and distribution where a group of people (us) develops a direct relationship with nearby food producers (farmers). Customers enroll in the program to support a grower, who they trust to take good care of their land, crops, and animals. A typical CSA program includes an early spring membership payment, with weekly distribution of produce and other items when they are freshly harvested. Produce from a CSA program is fresher, healthier, and tastier than "conventional produce" that has travelled up to 1,500 miles to the store after days or weeks spent on trucks. If you are interested in connecting with the freshest, locally grown produce, the LEAF Community offers two programs to assist our Lakewood neighbors in doing just that. Both programs vend shares of produce picked within 24 hours of delivery on Thursday evenings at the Lakewood Public Library's main branch. These two programs are:
Covered Bridge Gardens
This farm, run by Mick and Kay Prochko, is located in Jefferson, Ohio (Ashtabula County). Mick and Kay deliver weekly produce market bags to Lakewood on LEAF Nights. You will have the chance to discuss how the farm is doing, ask questions and get to know Mick and Kay throughout the season. This program includes weekly newsletters with recipes, information and tips on how to handle, prepare, and preserve items in your share bag.
How the Program Works:
The Covered Bridge Gardens CSA program accepts payments in thirds (in May, June, and September). Weekly shares will be available for pickup at the Lakewood Library main branch on Thursdays, from June 19th to October 5th, from 4:30 to 8:00 pm. If you know that you will be unable to pick up your share, you can let the farmers know ahead of time to make arrangements to either have someone pick up your share for you, or double up your share on a different week. If you have specific requests, you will be able to communicate those with the farmers by phone or email.

Pricing (1 market bag a week for 16 weeks):
Family Pack $475
Single/Couple $290
The registration form for this CSA program is available at www.leafcommunity.org
In order to serve you best, please register by May 31st.

City Fresh
This program was initiated by the New Agrarian Center in Oberlin, Ohio. The New Agrarian Center is a non-profit organization that receives grant funding to support staff and transportation costs. Their employees work with 16 local farmers to bring shares of produce to several locations in Cuyahoga and Lorain counties. For the Lakewood Fresh Stop, all the produce is delivered to the Urban Community School in Ohio City. The truck is unloaded by volunteers, counted and divided up, then re-loaded for delivery to the Library in Lakewood, where shareholders pick up their share bags.

How the program works:
Shareholders are required to pre-pay for shares at least 1 week ahead. The price for the regular-income shares is slightly padded to subsidize the low-income share cost, which is 50% less. City Fresh accepts WIC, Senior Farmer's Market Vouchers, and the Ohio Direction Card. The program will run for approximately 20 weeks, starting on June 5th, with shares available for pickup at the Library on Thursdays between 5:30 and 8:00 pm.
Pricing:
Full Share: $20/week
Half Share: $10/week
Full Limited Income Share: $10/week
Half Limited Income Share: $5/week
The sign-up form for this program is available at www.leafcommunity.org and more information is available at http://www.cityfresh.org.
Volunteer with us!
New volunteers are always welcome. If you are interested in volunteering at LEAF Nights or have any questions regarding the Community Supported Agriculture Programs offered by LEAF, please contact Annie Stahlheber at banannie_22@yahoo.com.
Read More on LEAF Community
Volume 4, Issue 11, Posted 9:45 PM, 05.17.2008