Colin Teets Update 10/22/08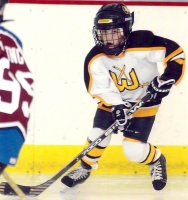 Colin made it through his first day of rehabilitation. He was given a better wheelchair this morning, so we went for a walk. We didn't get too far before we were stopped by the teacher, Tadz. He invited us into the classroom. I answered some questions and he told me about the program here. He explained how he would be in contact with Colin's school before discharge to coordinate everything.
Colin had some trouble with his helmet. He was in tears saying it was too tight. Of course I called the orthotics company. Rich, who also makes Colin's sister's AFOs, made room in his schedule to come and take a look at the helmet. Additional padding was added, but Rich seems to think there's still some swelling in Colin's temple that may be making Colin think it doesn't fit.
He met his speech therapist, Lisa, who graduated from Lakewood High School with his Aunt Eve – small world. Colin showed excellent comprehension, identified letters, wrote numbers, made some sounds, and followed two step directions. This first session was more or less an evaluation. Tomorrow they will officially begin.
The music therapist made a visit to Colin's room. He seemed to enjoy making music on the keyboard and other instruments. Colin informed Jenny that he was a trumpet player. That made her smile. When he is able, she'll have him playing the recorder – which is probably the closest instrument to a trumpet she has.
For physical therapy, Colin was taken to the large gym. I was taught how to help him in and out of his wheelchair. Naomi measured Colin's range of motion and helped him stretch his leg muscles. He was tired when the session was through.
We thought Colin would get a break before occupational therapy, but that didn't happen. Again, he worked on getting in and out of the wheelchair with assistance. Colin got light-headed and dizzy so his blood pressure was monitored. Julie asked him lots of questions about what he likes and doesn't like. We took a stroll back to the gym and Colin performed a few tasks with color tiles, and played a game of Connect Four.
Around 4:45 pm, Mark "Munch" Bishop from WKNR 850AM, said, "Hello" to Colin. He said a few words about him and his unfortunate situation. Colin was smiling ear to ear, when he heard his name
Grandma Judy visited with Colin this evening, when I could not be here because of classes at CSU. He's still afraid to be left alone. He stayed awake waiting until I returned and now he's sleeping soundly.
VISITATION:
The Cleveland Clinic Children's Hospital for Rehabilitation has a somewhat relaxed visitation policy. The hours of visitation are from 8 to 8. Children are welcome. The one policy they are very strict on is the guest list. If you are not on the list you are not allowed in to see Colin. We would like everyone who wants to see Colin able to do so. Please email Dawn dpbcmteets@wideopenwest.com or myself pteets2669@wideopenwest.com with your intention to visit and we will add your name to the guest list. The address for the Hospital is:
2801 Martin Luther King Jr. Dr.
Cleveland, OH. 44104
Read More on Colin Teets UpDate
Volume 0, Issue 0, Posted 12:08 AM, 10.23.2008