Colin Teets Update 10/23/08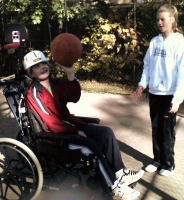 Today started with occupational therapy at 8:00 am. Julie worked with Colin on self help skills. While lying in bed she helped him wash up a little and get dressed. Then she helped transfer him into his wheelchair so he could eat breakfast at the tables with some of the other children that are here.
At 9:00 am Colin went to speech therapy. Lisa had him tapping and humming. Then he repeated words and short phrases while tapping. The words and phrases were sung. He did pretty well. He's got a long way to go, but he was trying very hard. On a dry erase board, Colin wrote his name and spelled some words at Lisa's request. Finally, he worked on rote counting while Lisa pointed to the numbers one to five. During this session, Colin was very emotional. He did cry a few times. I could see the frustration in his face, and I can only speculate how aggravating it must be to have to relearn things you know already.
Since Colin had a bit of a break between therapies, we returned to his room to relax. He read the new guest book postings which make him give a thumbs-up and a smile. Then I decided to see if he could type. He sent Paul an email: "Hi Dad". I think it made Paul's day. He tried to keep a conversation going back and forth, but Colin had some trouble. He would type and delete and space then backspace, so even though he wanted to keep going, he had to stop.
Colin did not want to join the other children during lunch. He chose to eat in his room. I'm not ready to force him into socializing. He'll get to that point when he's ready.
Physical therapy was at 1:00 pm. In the gym, Colin worked on stretches and holding his trunk straight while sitting. He and I played Connect Four while Naomi steadied him from behind. It was fun to play a game with him. He didn't even realize he was getting a workout for his main body.
Colin had a few visitors today. He was so happy. Coach Hoy came by, and so did "Aunt" Denise with her daughter Kara. Kara is Colin's age, and they are good friends of the family. During their visit, we took Colin for a stroll outside in his wheelchair. In the courtyard, Colin was dribbling a basketball and trying to shoot some hoops. After the emotional morning he had, it was nice to see him smiling.
At dinner time Paul brought all the kids and Grandma Pat for a visit. Kevin was a handful. We kept him entertained by pushing him around in a spare wheelchair. Megan took a few rides in it as well, and even raced Colin's roommate, Lequenten, down the hall. Paul brought a Subway sandwich for Colin, and he ate the whole six inch sub!
Coach Werling came by with Mrs. Werling and Connor. They gave Colin a huge Westlake Soccer banner signed with a ton of well wishes. This was very touching. Colin was so very happy. He was also given a signed soccer ball from his teammates, and some shirts that were from the girl's soccer team. Connor, Brendan, and Megan, took Colin for a stroll around the hospital Then Colin sat and visited in his chair as long as he could. What a great night.
UPDATE ON VISITATION:
The Hospital has changed their policy on Colin for the time being. The list we handed in was rather large and we were adding names on a regular basis. They have made Colin's visitor log open. You will not need to contact us to be added to a list. If you have any problems with getting in to see Colin, my cell is 440-724-7293, call and I will get you clearance.
Read More on Colin Teets UpDate
Volume 0, Issue 0, Posted 11:13 PM, 10.23.2008