Colin Update 10/25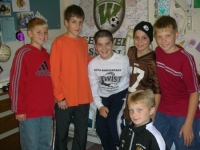 What a nice day for Colin. His morning was filled with therapy and his afternoon was filled with a steady stream of visitors. My guess is that his cheeks hurt from smiling so much.
Colin's friend Nick brought him a big pair of lips – and I still keep laughing. If you've read Colin's guestbook, Nick has advised Colin to run because his mom wants to kiss him and she can catch him now – hence the lips – and, I'm still laughing.
Ian, Chris, Jake and Neil came by for a visit, too (mom's, included). Colin showed off a new typing tool that speaks and sat upright without help when asked to pose for a picture. I'd call him a ham – but he's doing what I need him to do.
Noah and his mom kept us company for a long time, along with Aunt Chris, Uncle Mike, Connor and Emma. Great Aunt Noreen stopped in with Grandma Pat, and Grandma Judy and Grandpa Bob came for a visit, too. Colin played Trouble with Grandma Judy – what fun. Grandma Pat stayed late and watched Colin's new video, Transformers.
UPDATE ON VISITATION:
The policy for visiting Colin is still open. You will not need to contact us to be added to a list. If you have any problems with getting in to see Colin, my cell is 440-724-7293, call and I will get you clearance.
Schedule week of 10-27:
For those that have inquired about visiting Colin during the week, his open times are as follows: Monday 2-3 and 4-8. Tuesday 1-3 and 4-8, Wednesday 2-3 and 4-8, Thursday 1-2 and 4-8, Friday 2-3 and 4-8.
Read More on Colin Teets UpDate
Volume 0, Issue 0, Posted 6:06 PM, 10.26.2008