Colin Teets Update 10/27/08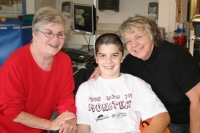 Today was Colin's first full day here at the Rehabilitation Hospital. It began at 9:00 am with physical therapy. At 10:00am he had school (a little different than typical school). He had speech and language therapy at 11:00 am. He specifically requested that I not come. Lunch was at 12:00 pm. Dad went out and got him a Chicken-Bacon-Ranch sub from Subway. At 1:00 pm Colin was picked up for Group Meeting. This was with his school group. During group they work on social skills and sometimes do activities. I understand that today they made Halloween costumes. Colin's schedule concluded with occupational therapy at 3:00 pm.During PT Colin's leg was put in an immobilizer and Naomi helped him walk between the parallel bars. It was great to watch. He wasn't doing much walking on his own, but it's certainly a step in the right direction.
Grandma Pat came to sit with Colin this evening while I went to class at Cleveland State University. I understand he had lots of visitors. Uncle Bruce brought cousins, Bruce, Patrick and Timmy to see Colin. They played a game of Trouble. Coach Ward brought his family to visit. His wife, Lisa had come by the hospital this afternoon and hung out with us then. And finally, Great Aunt Jan, Great Uncle Ed, and Theresa stopped in, too.
VISITATION:
The policy for visiting Colin is still open. You will not need to contact us to be added to a list. If you have any problems with getting in to see Colin, my cell is 440-724-7293, call and I will get you clearance.
Schedule week of 10-27:
For those that have inquired about visiting Colin during the week, his open times are as follows: Monday 2-3 and 4-8. Tuesday 1-3 and 4-8, Wednesday 2-3 and 4-8, Thursday 1-2 and 4-8, Friday 2-3 and 4-8.
Read More on Colin Teets UpDate
Volume 0, Issue 0, Posted 7:45 AM, 10.28.2008